PDP Sues Tinubu For Appointing APC Member As A'Ibom REC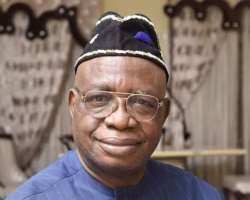 The Peoples Democratic Party (PDP) in Akwa Ibom State has instituted a legal suit against President Bola Tinubu for reportedly appointing a member of his party, the All Progressives Congress (APC) as Resident Electoral Commissioner (REC) of the Independent National Electoral Commission (INEC).
The suit was filed by the Chairman and Secretary of the state PDP, Aniekan Akpan and Harrison Ekpo, respectively.
The opposition is challenging the choice of Etekamba Umoren as the REC for the state.
It could be recalled that on Wednesday the Senate confirmed the appointment of seven out of 10 RECs forwarded to it on Tuesday by the President, which included Umoren.
In the suit marked FHC/ABJ/CS/146/2023 filed before the Federal High Court in Abuja, the plaintiffs listed as defendants, Tinubu, the Senate and Umoren.
The opposition party chieftains are urging the court to declare that "the 1st defendant (President Tinubu) cannot present the 3rd defendant (Umoren) to the 2nd defendant (Senate) for confirmation as REC for Akwa Ibom State, Nigeria."
They are seeking a court declaration that "the appointment of the 3rd defendant as REC for Akwa Ibom State is unlawful, illegal, unconstitutional, null and void ab initio and of no effect whatsoever."
The plaintiffs want the court to issue an order of perpetual injunction "restraining the Senate from allowing, permitting and/or confirming Umoren as a REC and a further injunction restraining Umoren from acting, assuming the office and/or parading himself as a REC for Akwa Ibom State."
Meanwhile, no date has been fixed for the hearing of the suit.