2011: S-EAST, S-SOUTH LEADERS FORGE ALLIANCE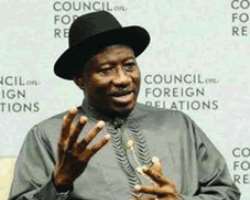 President Goodluck Jonathan
Political leaders from both the South-south and South-east yesterday resolved to work together to ensure that President Goodluck Jonathan picks the Peoples Democratic Party's (PDP) ticket and wins the 2011 presidential election.
The leaders, at a meeting held at the Asokoro, Abuja residence of prominent Ijaw leader, Chief Edwin Clark also reviewed the political developments in the country. They vowed to work together to seek the support and endorsement of the entire South-east zone for the actualisation of Jonathan's ambition in the election.
A communiqué issued at the end of the meeting, which lasted several hours, said the meeting observed the standing relationship between the people of the two zones right from pre-independent days.
The communiqué reads: 'That the high level deprivation and poverty prevalent in the country particularly in the rural areas of the South-south geo-political zone where oil and gas resources are explored and exploited to produce the wealth of the country is a product of deliberate policy of subverting the principle of federalism which was practised at the birth of the Nigerian federation.
'That as creatures of God, all men are created equal and therefore no one is and should be regarded inferior to the other. 'That it is only unity of purpose and common understanding that would guarantee freedom and equal opportunities for all oppressed people of this country.
'That the consultations and permutations for the emerging political dispensation in 2011 may not have sufficiently recognised the contributions of the South-East during the constitutional crises that followed the indisposition of the late President Umaru Yar'Adua in November, 2009. 'That the emergence of President Goodluck Jonathan as president of the Federal Republic of Nigeria is a divine call to serve' adding that since he emerged, 'there has been substantial improvement in electricity power supply and stability in the supply of petroleum products.'
The leaders of the two zones added that the meeting agreed to give attention to the issues that unite their people rather than issues that divide them 'because there is no ocean without debris.' The leaders also resolved that the two zones would still meet and hold a wider meeting of leaders from the zones in the South-east where issues such as marginalisation, loss of job, creation of states and 2015 presidency would be discussed.
The communiqué was signed by former Minister of Education, Prof. Chinwe Obaji, Prof. I.C. Madubuike, Mr. Francis Orji, Dr. Osita Ngwu and Senator Chris Ukpai on behalf of the South-East while Air Cdre Idongesit Nkanga (retd), Prof. B.I.C Ijomah, Brig.Gen. S.E Oviawe (retd), Chief Ayakeme Whisky and Chief Richard Lamai signed on behalf of the South-South.