BRITAIN: CAMERON IN 100 DAYS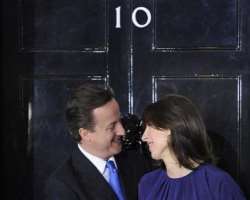 PHOTO: BRITISH PRIME MINISTER, MR DAVID CAMERON WITH WIFE SAMANTHA.

Holidays can be sweet, something to wait for; that is after a period of hard work. Britain's Prime Minister, David Cameron, has gone on holiday mid-August. He has been at work since May when he arrived Number 10, Downing Street, London. Now he goes to relax after 100 days in office, along with his Deputy PM, Liberal Democrat's Nick Clegg. Both, coming from two different parties (Conservative and Liberal Democratic), had carved out jobs for themselves when they agreed to find middle course after an election that failed to produce a clear majority. That, on top of a British economic, financial and social landscape that has been a source of worry - another job on its own. Now it is time to look back and see how a coalition of strange bedfellows has worked, as well as examine if it has dedicated itself to the job of turning Britain around. This is important, as it allows for placing places where governments know why they exist side by side with where they don't.
The last three months have not been bereft of the expected from Britain's coalition partners. Their differences were expected to be an issue, and they were, except that they work together to patch things up. They have to, for sinking is a possibility, for one, and for the other. As such it has been months of intense activity. At the onset, Cameron and Clegg had appeared together in the public (May) to say they would work together for a Britain that needed to, (among other) cut spending. This has a sour taste for the public, but the markets love it. Ministers have had to cut down on expenses, riding in cabs, leaving official vehicle alone, for instance. Electoral reforms have always been in focus for the Liberal Democrats, a thing the Tories hate, but have to engage in – phasing out some constituencies, fixing terms to spend in parliament. Issues on changes to the National Health Service or NHS's finances is in the work. Large scale changes to schools went into though Parliament and came out in record time. The partners have moved nearer to bringing Britain's adventure in Afghanistan to a close. Active steps have been taken on national ID card issues. Hammer of cuts in expenditure continues to hit right, left and centre. Even Mr. Cameron is known to take scheduled flights to international events. All these are on the plus side for the coalition; that it has been working hard to bring changes to the country is what the sheet here shows though.
On the international scene (somewhat on the negative side), the government has had a face-off with Pakistan, and David Laws, Chief Secretary to the Treasury, resigned (an indication of some sort of weakness in government), and so did the Sir Jock Stirrup, the Chief of the Defence Staff. And it may take a while yet before the senior partner in the coalition gets over the shock of finding himself in charge; of course, due to the manner he arrived office. Cameron has once said each time he heard reference made of the PM, he thought of Gordon Brown, the immediate past occupant of Number 10.
More of the waves of shock of his office have been from foreign affairs' front. It was a different thing, he speaking of issues in Britain as leader of the opposition party pre-May. But, as the PM, he has had to answer questions about wrongs he knew nothing about in the course of a recent visit to Pakistan, where he was asked to comment on BP spilling oil in US Gulf area. Mr. Cameron had gone to talk about Britain and the war in Pakistan; he succeeded in talking about the US instead. Being the PM is not the same as running a smooth debate in parliament.
But he has managed to give a new face to Number 10. Take Mr. Brown's serious mien and Cameron's happy-go-lucky boyish looks; you have seen the happenings within the offices where he presides. It is said that civil servants around him think Number 10 has a more relaxed air to it; it is now where laughter is shared, the same thing the Tories and Liberal Democrats share, in spite of the seriousness of the work at hand, and more serious compromises to reach.
A thing that stands out in the last one hundred days is the effort put in by the partners to make it work – for the good of the public and the country. The thought of we are "in this together" adds something to the way they play the politics of it all. There is always a way to play politics when the destiny of a nation is at issue. The heads – Dave and Nick – make the most of it, and their ministers do the same. They may disagree over everything from EU to new delineation of parliamentary constituencies, but they have forged a partnership that drives Britain forward. Every nation needs it, positive forward movement. And as a mark of a united house, a senior Tory is scheduled to speak, September, at a Liberal Democrats conference. The Liberal Democrats too may agree to play a return leg.
Just as it was before they formed the coalition, there are suspicions that this may not last for long. The reason being the large scale compromises that has been reached, and has to be reached, between these previously uncompromising political entities. Fact remains however, and this is a lesson, that a seemingly unworkable coalition was formed, it is working, in a situation where some largest parties across the African continent, that control everything from the Ward level to the presidency, are neither willing to acknowledge problems confronting their nation nor are they ready to confront them, head on. Cameron and his coalition partners have done the opposite. The point that they do is what is relevant to all for the moment; the point that the show of friendship may not last can wait to be raised tomorrow.
Ajibade, a Consultant Writer, lives in Abuja.
Disclaimer:

"The views/contents expressed in this article are the sole responsibility of the author(s) and do not necessarily reflect those of The Nigerian Voice. The Nigerian Voice will not be responsible or liable for any inaccurate or incorrect statements contained in this article."
Articles by thewillnigeria.com