Minister Inaugurates Audit Committee On New Buildings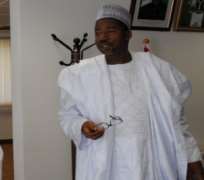 ABUJA, August 19, (THEWILL) - The FCT administration has today taken steps to confront headlong the challenges facing the building and construction industry in the Federal Capital Territory, Abuja.
To this end, FCT Minister, Senator Bala Abdulkadir Mohammed has inaugurated a 17-Member Ministerial Committee to carry out comprehensive Audit of all buildings under construction in the Federal Capital City, Abuja.
The Minister emphasized that the FCT Administration will not leave any stone unturned in its effort to stop the re-occurrence of the ugly trend of building collapse in the Federal Capital Territory.
According to him, "We are taking a pre-emptive step in confronting the challenges we have been facing within the construction industry in recent times-the challenges of collapse buildings".
Senator Mohammed recalled with sadness the collapse of a 4-suspended structure in Garki II District of the Federal Capital City on the August 10, 2010 killing 21 people with only 9 rescued.
The Minister commiserated with the families of those who lost their lives in the incident and prayed that the souls of the deceased rest in peace.
He remarked that the sad event informed the decision of his administration to set up the Committee to critically assess the conditions of all buildings under construction in the Federal Capital City with a view to forestalling any further collapse.
The Minister charged members to also cover such issues as the challenges posed by sheer number of abandoned buildings, the security implications of their being turned into havens for miscreants and hoodlums that torment neighbours as well as the danger they pose to lives of workers and even illegal occupants.
Senator Mohammed lamented that such abandoned buildings also have negative impact on the landscape of the Federal Capital City; the psychology of investors as well as aesthetic considerations to the entire City.
The terms of reference of the committee include determining the standard and quality of all buildings under construction; whether such buildings have building plans, setting out and stage approvals as well as level of compliance during construction.
The Committee is to also determine the quality of materials used; the technical competences of building contractors and those supervising such projects; assess the impact of litigation of the emergence of the abandoned structures and advise ways of resolving same.
Responding on behalf of members of the committee, Dr. Austin Ike thanked the Minister for the assignment. He assured that the committee would strive to do justice to the important assignment.
The Committee is to be chaired by Dr. Austin Ike while Engr. Omotayo Ogunkuade is Secretary.
Other members are John Haruna, S. B. Adewale (Mrs.), Abubakar A. Sanusi, Engr. M. B. Idris, QS Donatus Ofodile, Bldr. Abdullahi Iya, Engr. Abbas Yakubu, TPL Esther Abin, Engr. Anthony Umezine and Ach. Ali Ukele, Engr. C. N. Nwafor, Bldr. Alao Abdulrazaq, TPL (Mrs.) Morenike Babalola, Arc. Daniel Agamah and Mohammed Kabir Olayiwola.
The Committee has 60 days to submit its report.