TRUE LEADERS WILL EMERGE NEXT YEAR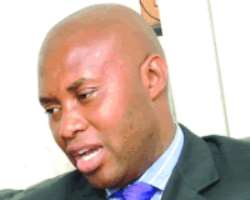 Allegation of corruption against the leadership of the House of Representatives. The fight against corruption started with the Obasanjo administration and President Goodluck Jonathan has sustained the war. But it's unfortunate that some members of the House of Representative accused the Dimeji Bankole of corruption.
However, until it is proved otherwise by a competent court, it remains allegation or accusation hence in every sector or organization especially institutions of governance, there will always allegations coming up from time to time because as a public officer, you are accountable to the people. So obviously, you must be ready to give account of your stewardship whenever the people demand from you to do so.
If you are able to prove beyond every reasonable doubt that you are transparent, then, you are free but if not, you are corrupt. So in the case of Hon Bankole, it is an allegation that must be proven by those who brought it.
What if he is accused wrongly?
The group of the progressives got it wrong when they failed to obey the House rules and order by going to the press when they have not exhausted the internal avenues created. When Dino Melaye brought the case of over-inflation of the runway to the House, the House investigated it and at the end of the day it came out that, yes, his allegations were well proven hence it was a plus for Melaye and his group.
Only recently he came up again with another allegation of corruption against the leadership of the House and the chairman of EFCC assured the progressives that the matter will be looked into, but it is rather unfortunate that instead of following due process, the group engaged in physical combat that has to some extent defeated their noble venture. So the suspension of the progressives is in order with the rule of the House, which stated that those who contravene the rules could be suspended.
What if their constituencies decide to recall them?
Sometimes, it is difficult to do such a thing in our society. As I talk to you now, majority of them enjoy the full support of their constituencies as they believe in them, but the Kogi State House of Assembly came out boldly, apologized and condemned the action or show of shame of the progressives led by their illustrious son Dino Melaye. Actually it is good to fight corruption but the action is an embarrassment to Nigerians.
Jega's appointment
Prof. Atahiru Jega has sound track record and these antecedents made the President give him this new assignment However, even though he has proved himself capable of conducting credible election. His career, past antecedents and the image will equip him for his new assignment because the chairmanship of INEC can make or mar him. But I pray he will not have hawks around him that will puncture whatever good ideas he may have towards conducting free and fair elections next year.
Zoning
It's unfortunate that zoning has been overheated. It is worthy to note that Nigerians are not after where their president comes from, but one that can render effective service and good governance. Democracy is all about numbers, originally, the idea of zoning by the ruling party was all about balanced representation to accommodate the minority in power sharing.
Though it is not a constitutional matter, it is a gentleman's agreement entered into because of the annulment of the late Chief MKO Abiola's election victory in 1993 which led to his detention and death. And the South, especially the South-West, where Abiola came from , were very aggrieved, hence the North decided to compensate them by zoning the presidency to the Yoruba.
The superior argument then was that it was a Northerner, General Babangida that annulled the election, the late General Abacha detained him and he eventually died in detention, therefore any attempt by the North to perpetuate itself in power will lead to disintegration of the nation. So in their wisdom, they zoned the presidency to the South-West and that was the reason the two major candidates that contested the 1999 presidential election Chief Olusegun Obasanjo of the PDP and Olu Falae of AD /APP were from the South-West with Chief Obasanjo emerging president and stayed in power for eight years. Therefore, that does not amount to zoning the presidency to North and South, rather it was as a result of circumstances at that time that led to this arrangement but not the case now.
Today by divine arrangement Dr. Goodluck Jonathan is our president not by his making or arrangement and any right thinking person whether zoning or not should support him and if he decides to contest in 2011, having performed well and able to give us power, good governance, reduce corruption and do things that will make the people happy within this short period we will vote for him.
For Christ's sake, we need a performing leader, not leadership by zoning, which will end up producing mediocrity, and it will not help our democracy. If he performs within the short time he has, Nigerians will want him to continue that is just the fact. Unfortunately, I hear people say the North is against the president running for second term but should obey the zoning arrangements.
Then I asked who are the Northerners saying this thing? I am from the North, a youth leader and by the grace of God, the founder of Ojone Foundation, I am against zoning and my group and I have thrown our weight behind Dr. Jonathan. Recently, notable northerners such as Deputy Governor of Sokoto State, Alhaji Mukhtar Shagari and others have started canvassing support for Jonathan.
We are not talking about tribe here; this is Nigeria and a leader whom providence and divine arrangement has placed in a vintage position today through a ticket with his late boss, Alhaji Musa Umaru Yar'Adua. So, he should continue from where his late boss stopped because their tenure is two terms of eight years. It is the selfish ones amongst us that are clamoring for zoning but they forget that for 38years the North have been in power with nothing to show but only the armies of Alamajiris in the streets of the North.
What is your expectation in 2011 elections?
The general election will be free and fair and by the grace of God, only true leaders would emerge. And I see myself as one of them because next year, I will be in the Kogi State House of Assembly representing Omala constituency.