IS OBI A POLITICIAN?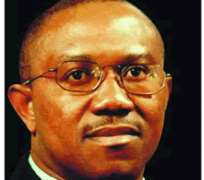 Gov Peter Obi of Anambra State is certainly an enigma as far as the politics of the state and, indeed, that of Nigeria goes. Here is a man that literary emerged from the blues and started doing the unthinkable in the country's politics by scoring a number of positive firsts and re-defining her political structure.
He became the first man to unseat a serving governor; the first man to overturn an impeachment; the man who made it possible for cheated governors to serve out their full tenures after reclaiming their stolen mandates; the man who introduced staggered elections in Nigeria; the first governor in Anambra State to serve a second tenure. The list goes on and on.
Obi achieved all this without recourse to the political class either from Abuja or from within. Because of this, the politicians marooned him and said he was not one of their own. According to them, he is anything but a politician. A look at the political history of the state will even give credence to this belief and it wouldn't harm us to take a short trip down Anambra's political memory street.
Chinwoke Mbadinuju who governed Anambra State from 1999 to 2003 is adjudged as the best politician to have ruled the state. Under him, the politicians had a field day. Government House, Awka was always a beehive of political activities as well as a political Mecca. Daily, politicians from Abuja and those from the state swooped on Awka and helped themselves from the commonwealth of Anambra people.
Contracts were awarded, often in good faith, to these people by Mbadinuju only for such contracts to be either abandoned or done shoddily after they had been mobilized. A case in point is the abandoned stadium in Awka over which several million were spent only for the contractor, a popular traditional ruler, to erect two pillars and pocket the money.
The same traditional ruler was awarded the contract of installing a mast for the state radio station. Twice he attempted to install it and twice the mast crashed, killing some of the technicians each time until it was abandoned. But that did not stop the Igwe collecting his money. Many road contracts were equally given to other people with similar poor results and yet the contractors most of who became emergency ones, always returned for more and were obliged.
The result was the collapse of the state's machinery of government with salaries of workers owed for a year and schools also shut for same period. Despite this, the people who ran the state aground will still tell you today that Mbadinuju remains the state's greatest politician. Why not? Mbadinuju was simply the golden goose that laid the golden eggs but for them only.
Then Chris Ngige came. After illegally profiting from a monumentally rigged election in 2003 which was won by Obi but given to Ngige, he showed better smartness than Mbadinuju. He used the politicians to come to power then dumped them soon after and replaced them with his own trusted allies, mostly family members. Seeing that his manner of assuming office was faulty and one the people did not accept, he embarked on his famous one-point agenda of massive road construction which however was limited to his political zone of Idemili North and South.
He first started with his home town, Alor, which had no economic value to the state. Overnight, Alor became a paradise, the only rural town in Nigeria with the best road network. When he was through with his town, he extended same to the two local governments making up the zone and built roads that led to or from the local governments. The zone prospered but others wilted.
When he was eventually booted out of office by the courts three years after, he had not done a single thing for Awka, the state capital, apart from reconstructing a one kilometre bye-pass through which he went home. The road collapsed under one year and was subsequently patched each succeeding year until Obi finally got it right last Christmas. Ngige in leaving office left a legacy of destruction arising from the 2004 mayhem when his godfather politicians set the state ablaze for being used and dumped.
People from other parts of the state who did not benefit from his lopsided road construction did not forget that and showed their anger in the Feb 6 election when they rejected him. When Obi came, he had no godfathers but the people to whom he owed allegiance. Under him, the thieving politicians were barred from interfering in the governance of the state.
Only people with meaningful contributions to the state were accepted. Sanity returned to the state and donor agencies which fled the state returned in droves. The state witnessed unparalleled development in all the sectors and at the same time, thus proving that a man can indeed be a Jack of all trades and master of all.
The politicians rebelled; the masses rejoiced. For them, a Daniel had come to judgement. But the political class continued to grumble and saw the election of Feb 6 as an opportunity to deal with Obi for sidelining them. They however did not reckon with Obi's native intelligence and superior political savvy. Obi waited until the last minute and then went full blast in showcasing his achievements.
He started with a 20-page advertorial of his achievements - the first of its kind in the country. He followed it up by inviting a cross-section of the populace to come and verify all the projects he had advertised. They all came, saw and believed. Such people/groups included the media, students, traders, professional bodies, traditional rulers, town unions, churches and elders of the state, among others. Every one of them marvelled at what Obi had done with their money.
They saw that unlike in many states where development centred on the townships, Anambra's version cut across the entire state, with every community having a feel of government. When voting time came, the aggrieved politicians tried to tell the people that Obi had done nothing. The masses responded by returning Obi to power to continue his great work. The politicians knew when they were licked and quietly melted away. Today, some of them are even joining Obi while the rest have retired.
Now, given the way Obi has handled them and how without them he has been able to re-engineer the state, is it still appropriate to label him a non-politician? Methinks he is the greatest politician to have emerged in recent times in Anambra State and Nigeria. He had a clear cut vision from day one and knew how to actualize it. This he has done with aplomb and earth shaking results. YES, Obi is a politician.
Seth Mbam sent this piece from Nnobi