MADE IN ABA GOODS TO ENJOY GLOBAL RECOGNITION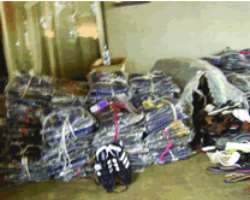 Goods produced in Aba would soon get international recognition as Made in Africa Investment Ltd, a company based in Ghana has concluded arrangements to enlist them in their website.
This was disclosed by Mr Emmanuel Mbigbo, the Chief Executive Officer of Madeinafrica, organizers of a recent seminar in Aba, Abia State tagged 'International Business Opportunities for Aba Manufacturers.
He said the seminar was aimed at introducing a new and vibrant way for manufacturers in Aba. The company would be the technical bridge between a global market place and the local endeavour to produce products of international standard.
Also speaking, the managing director of the organization, Mrs. Zuliatu Morton said Aba was chosen for the seminar because of the ingenuity and creative ability of the people and stated that a website had been opened for Aba manufacturers known as aba manufacturers.com and urged them to make good use of the business opportunity the seminar would provide.
The Abia State Ministry of Commerce and Industry acting permanent secretary, Mrs. Mercy Ekeobi stated that it was in order to boost international trade in the zone that the Federal Government embarked on the establishment of the Inland Dry port at Ntigha in Isiala Ngwa North.
Ekeobi represented by Chief Sam Nwagbara, a deputy director in the ministry said the idea for the project was to create a dry port outside the sea with similar facilities like the seaport for all import and export transactions.
She commended Madeinafrica Investment Ltd, Ghana, for her choice of Aba for the enlightenment programme and urged manufactures and other businessmen in Aba to make good use of the opportunity.
The Permanent Secretary of the Ministry of Information and Culture, Chief Felix Erondu said Aba had mastered the art of shoe making, tailoring and others which earned her the name, the Japan of Africa. He expressed joy that Madeinafrica planned to boost manufacturing companies in Aba and their products on the internet which he said would link such companies to international business opportunities.