KIDNAPPING: GOV ORJI'S WIFE, CHURCH MINISTERS RESORT TO PRAYERS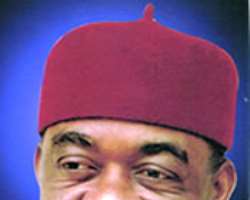 Church ministers of Abia State origin resident in Anambra, under the aegies of Abia Ministers Fellowship, have held a prayer session with the wife of Abia State Governor, Chief Mrs Odochi Orji. The prayer, held in Onitsha, Anambra State, was targeted at the spate of kidnapping in their home state, Abia.
The Methodist Bishop of Onitsha Diocese, Rt. Revd. Sunday Obioma Eze, who spoke at the event which took place at the Grace of God Mission said kidnapping was alien to the people of Abia state.
'Some events from the Niger Delta brought it to Abia and some people took it as a way of life. It makes us people of Abia State to look like outcasts wherever we go. People will think that you are a kidnapper if you say you are from Abia State. So, it is terrible and we are asking God to save us from this ugly situation,' the Bishop lamented.
He said he did not share the idea of those who attributed it to unemployment since, according to him, unemployment problem had been there for a long time. The Bishop said findings showed that some employed youths also engaged in kidnapping. Bishop Eze, however, called for good governance and resuscitation of industries that were moribund to create more job opportunities for the teeming population.
Chairman of the Abia Ministers Fellowship, Anambra, Rev. Charles Eke, said the situation called for fervent prayers for God's intervention. He attributed the social menace to get-rich-quick syndrome pervading the entire society. He said some youths in an attempt to make it fast engaged in all sorts of criminal activities, including kidnapping, because of faulty value system.
To Rev. Dr. Chidi Innocent, Vice Chairman of the organization, moral decadence and non adherence to religious teachings by the youths were responsible for the menace. 'Anybody who has been brought up through the church in the real sense of it cannot engage in such anti-social activities. But government has a big role to play by providing job for people. Somebody will graduate from a higher institution and for 10 years, he has not got a job and you expect him to marry and take care of his family,' the clergy reasoned.
Chief Mrs Orji, who was represented by the Permanent Secretary of the Ministry of Women Affairs, Chief Mrs Nkolika Kalu Nsi, said the issue of kidnapping was a thorn in the flesh of the government but expressed the hope that it was coming under control, though she added that it was not peculiar to Abia State.
She regretted that kidnapping was sometimes politically motivated by political opponents. She suggested that Nigerians who lost in ellections should learn from the American system to team up with the winners, adding that Abia State natives had been talking to God in prayers and enjoined the church ministers and other people in the Diaspora to follow suit for God's intervention.