NIGERIANS IN DIASPORA WILL VOTE IN 2015, JONATHAN ASSURES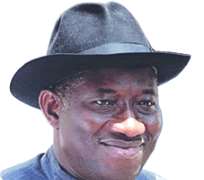 President Goodluck Jonathan has expressed regret over the inability of Nigerians in the Diaspora to vote in the 2011 elections. He however, assures that the Federal Government will put all machinery in motion to ensure that in 2015, their votes count.
He also assured that more distinguished Nigerians in the Diaspora will be considered subsequently for inclusion in the National Honours list, beginning from the next edition.
Out of more than the 28 Presidents and dignitaries that were invited for Gabon's 50th Independence Anniversary, none pulled the type of crowd that greeted the arrival of President Jonathan. The mammoth crowd even forced the Gabonese security to employ expert raiders to disperse them.
Jonathan gave the assurances during his interaction, with the Nigerian community in Gabon, at the residence of the Nigerian ambassador in Libreville, on Tuesday.
The President who could barely spend an hour with the Nigerian community that had on the previous day beaten the Gabonese security to welcome him at the airport, assured that while it may not be feasible for Nigerians in the Diaspora to vote in the forthcoming 2011 polls, trends in modern technology like the electronic voting system have simplified the voting process and assured that Government will ensure that they exercise their franchise in subsequent elections.
On the quest for the recognition of Nigerians in Diaspora for National awards, Jonathan said the Justice Belgore-led National Awards Committee will henceforth consider more Nigerians in Diaspora in the honours list, through nominations from Nigerian missions overseas. The President also disclosed that he will accord special recognition to 50 Nigerians from various walks of life as part of Nigeria's 50th independence anniversary celebration in October.
President Jonathan particularly lauded Nigerians in Gabon for making meaningful contributions to the economy of that country and assured that government will look into all immigration issues affecting them, especially, complaints of high cost of resident permits and visa fees, difficulties in acquiring the ECOWAS e-passport and illegal immigration by other nationals to Gabon from the coast of Nigeria. He promised to discuss these issues with President Bongo when they meet at the United Nation summit in September, and during a possible one-day state visit to Gabon.
On technical aid, President Jonathan said Nigeria will do more to assist other African countries in need of technical assistance. He also promised to send members of the technical aids corps to Gabon. President Jonathan noted the mammoth crowd of Nigerians in Gabon that came to welcome him at the airport when he arrived Libreville on Monday evening, saying he was overwhelmed by their show of solidarity. He said President Bongo spoke well of them and their invaluable contributions to Gabon, while he urged them to continue to be good ambassadors of Nigeria.