CBN: Acting Governor, Cardoso Officially Assumes Office Pending Confirmation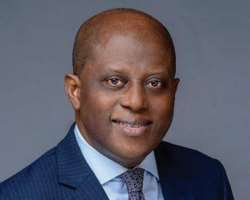 Dr Olayemi Cardoso (Acting CBN Governor)
Dr Olayemi Cardoso, the nominee for the position of governor of the Central Bank of Nigeria has officially assumed office on Friday.
In a statement by the Director, Corporate Communications at the CBN, Dr Isa AbdulMumin, it disclosed that the new acting governor assumed duty pending confirmation by the Senate, who are currently on their annual recess.
According to the statement, "Dr. Olayemi Michael Cardoso, recently nominated by President Bola Ahmed Tinubu, has on Friday, September 22, 2023, formally assumed duty, in an acting capacity, as the Governor of the Central Bank of Nigeria, pending his confirmation by the Senate. This follows the resignation of Mr Godwin Emefiele as Governor of the CBN.
"Similarly, the Deputy-governors-designate have also assumed duty, in acting capacities, sequel to the formal resignation of Mr Folashodun Shonubi, Mrs Aishah Ahmad, Mr Edward Adamu, and Dr. Kingsley Obiora as Deputy Governors of the CBN.".
It noted that Dr. Cardoso and his colleagues subscribed to the relevant oaths of office at a brief ceremony held at the bank's head office in Abuja on Friday.
Speaking to a correspondent, the Senate spokesperson and the Chairman, the Senate Committee on Media and Publicity, Yemi Adaramodu, earlier said that the Senate would screen the governor and other executives of the CBN as soon as it got an Executive Communication to that effect upon its resumption from its annual recess.
Also, it was reported that the Central Bank of Nigeria postponed the Monetary Policy Committee's 293rd meeting, which was scheduled for September 25 and 26, 2023.