Delta State And Good News From South Carolina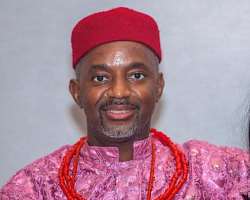 His Majesty(HRM) Dein, Doctor Kiarekugbei
It is a common knowledge that His Majesty(HRM) Dein, Doctor Kiarekugbei was a few days ago in far away United State of America honoured by South Carolina legislative for his good works, for Agbor and the world at large.
As part of events lined up for the honour, the king reportedly spoke to the chairman, Hon. Dr. Ivory Thigpen, the Honorable Chair of South Carolina Black caucus (the association for Black Legislators). They spoke about mutual interests, things that will benefit Agbor and Anioma, and also the king directed that I take the award on his behalf.
The award was later received on the Kings behalf by Knight Sir Tonna Okei Ikuku Oma, an Ekuku-agbor, Agbor, Ika South Local government area of Delta state born, but South Carolina, United State of America based Nigerian. Tonna is also the President of South Carolina Organization of African Unity(OAU) and an Honourable member of the board of trustees of knight of Columbus
The situation says something else.
Within that same week, Rt Hon. Festus Okoh popularly called Chucky Dandy, Member of the Delta state House of Assembly (DTHA) who was in the United States for the Agbor Convention 2023, was in like manner hosted by the the Dean of education, University of South Carolina, United States of America(USA).
Speaking on the significance of the visit, Sir Tonna Okei Ikuku Oma, who facilitated the meeting told Ika Weekly that the discussion at the meeting was centered on seeing how to make the Delta state-owned Universities in Asaba and Agbor, establish affiliate relationship with the Faculty of Education, South Carolina, USA, where anyone graduating from Department of Education in Asaba or Agbor would already have passed their state exams in South Carolina and qualify to for teaching job in South Carolina.
He explained that there is acute shortage of teachers in South Carolina. So, the aim here is to accommodate the State Teacher Certificate into the curriculum in Asaba and Agbor. So, what does that mean? If you are graduating from the Department of Education in Asaba or Agbor, you have already passed all the certification in South Carolina. So, when you graduate from the Department of Education in Asaba or Agbor, you are employed in South Carolina. You know what that means for Asaba and Agbor?
He argued that with such mutual relationship with South Carolina in place, the students in West Africa will want to go to Asaba and Agbor because they know that when they graduate from the Education Department, they already have a job in South Carolina waiting for them. So, that is one of the major factors that will make Asaba and Agbor the center of education in West Africa.
Continuing, he added that it is going to make the University sustainable. That would make those two universities sustainable. They would not need to depend on the governor. You can imagine that anyone in West Africa when they hear of this information, they can be sending their kids into Asaba and Agbor because when they graduate, they already have a job waiting for them.
According to him, every year, South Carolina goes to Romania, South Africa, and non-English speaking nations to employ teachers and yet, we have teeming youths in Asaba, in Agbor, in Delta state. You know what that means for Anioma. If your brother or nephew can go to education department in Asaba and Agbor and they graduate, there's a job already waiting for them in South Carolina. That is going to be a landmark project. That is number one. That is what we discussed. So, it is now up to the Delta State government to take up this project, work with myself and the South Carolina University to see how we can actualize this dream project for our children and growing children. That is number 1.
On the other aspect of the visit, Sir Tonna Okei captures it this way; when we left there, we went to the Sheriff of Richland County. We discussed areas like security, how the sheriff can come to Delta state to increase capacity in Delta State Security Network, to work with them, to assist them in areas of modern-day security, how to be diplomatic, how to respect laws. So, that is what we discussed with the sheriff. The sheriff was willing and told him that once they have the necessary invitation of Delta State with me, they are willing to work with people of Delta state. So, that was the major one also.
From this point, we went to the South Carolinas Legislative arm where the Hon. Chuky Dandy met with Chairman of the State Legislative Office. They discussed on areas of mutual benefits where maybe Delta State House of Assembly members can come down to South Carolina for a retreat or to observe them doing plenary; to discuss how they can add value to Delta state legislature in terms of what it means to be a legislator. So, they discussed a lot and I believe that Delta state will be better for when implemented. We discussed also how they can use the legislative arm in South Carolina to assist Delta in terms of education in terms of science.
For example, most of the science equipment they no longer need or have in surplus, they can adopt Delta State as a twin city where we offer Delta state equipment for free using OAU as a platform. They agreed that they would sign a Memorandum of Understanding (MOU) when the state legislature visits South Carolina. These were the things discussed using my platform as OAU. I am proud to be a son of Delta State because for me, anything that adds value for Delta is what I will stand for. So, I'm happy that Hon. Chuky Dandy was honoured in South Carolina. I believe more to come in terms of assistance to our people in Delta State.
On the lessons to draw from Dien's honour, Ikuku Oma submited If the Dein of Agbor kingdom can be so honoured in faraway South Carolina, it shows that the world is a global village and anything you're doing, be it in Ubulu-uku, issele-uku, Ekuku-agbor or okpanam, the world will recognize you. Keep doing what you're doing. Keep doing good. The good you do will never go unnoticed. So, for him being in Agbor and we know what he had done, he has worked to unite his people, he was one of those who solved the Niger Delta issue, if the South Carolina government could honor him, this tells the Olu of Warri, the Asagba of Asaba, the students, the politicians, the Vice chancellor and even journalists that if you do what is right, you can also be honoured. That if your people do not honour you, outsiders will honor you. It also gives you the honour. You can be walking anywhere in Anioma and tell people that the king of my territorial district was honored by South Carolina. It is an open door for everyone.
The Dein of Agbor is a very eloquent, intelligent, well-read leader. I love his ability to converse with the good and bad, faithful and unfaithful, ugly and beautiful. He is a wise king. There is no doubt he has the wisdom of king Solomon. Last year, I was able to get him to address the United Nations during the side meetings. You could tell from his dexterity that he is not only morally upright, he is socially, intellectually up there. So, the people in Agbor must be lucky to have such a king who is well known, well-travelled. And I think he is using those means to bring unity to the people of Agbor. He is using these means to add value to Agbor. That is why I am his fan. I love to promote the palace. My family has always worked for the palace and as for me, when my king is honored, I am honored. The good of the palace is my good also. He concluded.
For me, as the author of this piece, I hold the opinion that this is an opportunity that Delta state Government must not miss.
Utomi Jerome-Mario is the Programme Coordinator (Media and Public Policy), Social and Economic Justice Advocacy (SEJA), a Lagos-based Non-Governmental Organization (NGO). He can be reached via [email protected]/08032725374 .
Disclaimer:

"The views expressed on this site are those of the contributors or columnists, and do not necessarily reflect TheNigerianVoice's position. TheNigerianVoice will not be responsible or liable for any inaccurate or incorrect statements in the contributions or columns here."