Presidential Election: Peter Obi Lists 50-grounds, Asks Supreme Court To Nullify Tinubu's Tribunal Victory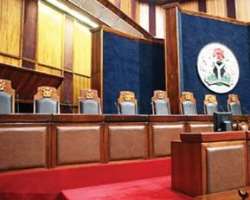 The presidential candidate of the Labour Party in the 2023 general elections, Peter Obi, has appealed against the judgment of the Presidential Election Petition Court (PEPC) which affirmed the victory of President Bola Tinubu as authentic winner of the election.
Obi in a 50 grounds notice of appeal by his lead counsel, Dr. Livy Uzoukwu, SAN, asked the Supreme Court to dismiss the decision of the presidential election tribunal.
Obi, in his appeal, maintained that the PEPC erred in law and thereby reached a wrong conclusion when it nullified the petition he lodged to challenge the outcome of the presidential poll that was held on February 25.
Among other things, he contended that Justice Haruna Tsammani-led five-member panel of the Court of Appeal, wrongly occassioned a grave miscarriage of justice against him, when it held that he did not specify polling units where irregularities occurred during the election.
He further faulted the PEPC for dismissing his case on the premise that he did not specify the figures of votes or scores that were allegedly suppressed or inflated in favour of President Tinubu and the ruling All Progressives Congress, APC.
Obi equally accused the Justice Tsammani-led panel of erring in law when it relied on paragraph 4(1) (d) (2) and 54 of the First Schedule to the Electoral Act 2022 to strike out paragraphs of his petition.
While accusing the lower court of breaching his right to fair hearing, Obi insisted that evidence of his witnesses were wrongly dismissed as incompetent.
He told the apex court that the panel unjustly dismissed his allegation that the Independent National Electoral Commission, INEC, uploaded 18, 088 blurred results on its IReV portal.
More so, he alleged that the lower court ignored his allegation that certified true copies of documents that INEC issued to his legal team, comprised of 8, 123 blurred results that contained blank A4 papers, pictures and images of unknown persons, purporting same to be the CTC of polling units results of the presidential election.
"The learned justices of the court below erred in law and occasioned a miscarriage of justice when they held and concluded that he failed to establish the allegation of corrupt practices and over-voting," Obi added.
Attached Documents