Gunmen Set Eight Soldiers Ablaze In Imo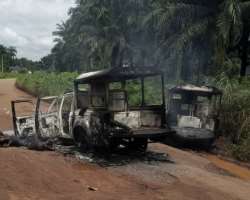 Unknown gunmen have reportedly attacked and killed combined security operatives numbering eight in Imo State.
This is even as the gunmen also set ablaze two of their vehicles in the state.
An eyewitness who spoke to newsmen said the incident happened at about 11:30 am in Oriagu, around Aba branch in Ehime Mbano council area of Imo state.
The video clip of the attack which went viral saw about four lifeless bodies of soldiers in their uniforms and their guns, as their two vehicles were inflamed.
At the time of filing this report, it was said that the road leading to the scene of the incident has been condoning off, raising tension within and outside the affected community.
According to the eyewitness, "The incident just happened about 2 hours ago. At first, I saw the two Hilux vehicles as they drove from Oriagu heading to Aba branch in Ehime Mbano. As I am talking to you now the Hilux vehicles are still on fire. The soldiers were burnt by the gunmen.
"Tension is everywhere. We have closed our shops. We are going home. We are seeing a lot of security operatives. They blocked the road. People are running to our homes. Our people are afraid anything can happen now.
"The first security, I saw over five soldiers. In the second security vehicle, I saw more than four of the security people. They said all of them were killed."
Meanwhile, at the time of filing this report, the Imo State Police Public Relations Officer, PPRO, Henry Okoye, was yet to make any statement on the incident.