AHRC's Announces its 2023 "Spirit of Humanity" Gala Awardees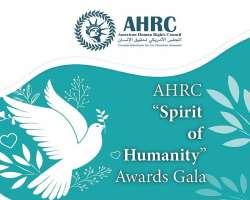 The American Human Rights Council (AHRC-USA) is pleased to announce its 2023 "Spirit of Humanity" Awards & Dinner Gala Awardees.
The awards and recognitions will be presented at the Gala on Friday, October 20, 2023, at 6:00 p.m. at the Fairlane Banquet, located at 700 Town Center Drive across from the Fairlane Mall in Dearborn.
AHRC's takes immense pride in this year's awardees, individuals whose efforts towards advancing human rights and serving humanity speak volumes about what kind of leaders they are.
AHRC is proud to present the following awards and tributes to:
Mr. Furqan Ahmed:
AHRC "Spirit of Humanity" "Academic and Community Service Excellence Award" is being presented to Mr. Furqan Ahmed.
Furquan Ahmed serves as the Wayne County Community College District's (WCCCD) Senior Vice Chancellor and President of the Northwest Campus. Mr. Ahmed, an integral part of the Chancellor's Executive Leadership Team, has more than 20 years of leadership experience and is an enthusiastic advocate for educational equity. WCCCD, the largest urban community college district in the state, continues to thrive as a six-campus District.
Mr. Ahmed has assisted in the creation of more than 120 workforce development, career, and academic programs to help retain workers for careers in emerging sector industries. He also developed new executive outcomes to drive WCCCD objectives and institutional change. Mr. Ahmed has also brought leadership, focus and structure for succession planning, employee retention, performance management, strategic direction, and restructuring.
Mr. Ahmed earned his Master of Business Administration Degree from the University of Detroit Mercy. He has been appointed as the Treasurer of the City of Detroit Local Development Finance Authority Board of Directors with the Detroit Economic Growth Corporation and serves on the Board for the Old Redford Academy School District. Mr. Ahmed is also the Vice President for the Curtis L. Ivery Scholarship Literacy Foundation and serves on numerous councils and committees at WCCCD which include the Chancellor's Executive Council, President's Council, Finance Committee Taskforce, Educational Affairs Taskforce, Internal and External Audit Lead and more. Mr. Ahmed is the recipient of the Tree of Life Foundation's 2016 "Success with Significance Award" and the 2008 WCCCD Excellence Award.
Ms. JANE C. GARCIA
AHRC "Spirit of Humanity" Community Service and Lifetime Excellence Award" is being presented to Ms. Jane Garcia.
Ms. Jane Garcia is a native Detroiter and licensed social worker; Ms. Jane C. Garcia has been a volunteer community activist for over 50 years. She has held positions with the Detroit Public Schools, other local Hispanic non-profits, and the U.S. federal government, where she retired after more than 25 years of service.
In 2005, Ms. Garcia completed twenty years of service as part of the Executive Committee of the United Way Community Services and was the first non-CEO elected as Secretary of the Board. Over the years she has served on many boards and commissions. Including Detroit Wayne Area Agency on Aging; New Detroit Inc.
Ms. Garcia continues to promote Hispanic issues in all social and political arenas. In 1990, Ms. Garcia founded Corporate Responsibility through Advocacy (True Ownership). The organization advocates for Minority Board Members through Stockholders' annual meetings and urges that diversity cannot be achieved without Latino and other ethnic minority representation at all levels.
Ms. Garcia has been recognized and honored by several local, state, national, and international entities including the 2002 OHTLI Award from the Mexican Secretaria Del Relaciones Exteriores; in 2007 was recognized by the Detroit News as Michiganian of the Year and in 2015 received the Spirit of Frida Award from Mi Gente Magazine. In 2017 she was honored by the Detroit NAACP as the first Hispanic American to receive the Ida B. Wells Freedom & Justice Award, and the Urban League of Detroit and Southeastern Michigan recognized her as a 2021 Distinguished Warrior.
Islamic Center of Detroit (ICD)
AHRC "Spirit of Humanity" Community Impact Award is being presented to the Islamic Center of Detroit (ICD)
AHRC "Spirit of Humanity" Community Impact Award is being presented to the Islamic Center of Detroit (ICD) and its team under the leadership of Mr. Sufian Nabhan, Executive Director, for their dedication to serving the diverse communities of the metropolitan Detroit area.
ICD has emerged as a true model of Islamic institutions and Muslim community centers through myriad programs focused on empowering women and youth. Their outreach programs and ongoing services such as mental health services, food pantry, and educational programming speak for their vision and dedication to serve. ICD has transformed itself to be an exemplary Muslim center in Michigan and across the nation. Recently, ICD acquired one of the most popular sites in Dearborn, the Fairlane Club, with a promising vision and mission to serve local youth and their families. One of the notable achievements is the renaming and renovation of Muhammad Ali Park, located in Detroit, thus keeping the legacy of Muhammad Ali alive through the support and funding of the Embassy of State of Qatar in Washington, D.C.
ICD is an Islamic center whose mission is to serve the most vulnerable people in metropolitan Detroit, guided by Islamic principles that emphasize service and the common bond of humanity.
Since its inception in 2000, the ICD has been expanding. Its many programs include youth empowerment training, female empowerment workshops, MUHSEN Certified programming and community services (such as neighborhood clean ups, clothing drives, a weekly food pantry). These projects benefit both Muslims and non-Muslims in the Detroit metro area.