Armed Men Attack Nigerian Journalists Covering Clashes In Bayelsa State
Abuja, August 30, 2023—Nigerian authorities should swiftly identify and hold to account those responsible for recently attacking a group of journalists in southern Bayelsa state, the Committee to Protect Journalists said Wednesday.
On August 14, a group of unidentified men carrying guns, knives, and sticks attacked journalists who were reporting on the aftermath of clashes between younger members of the Opu Nembe community and their leaders, according to the journalists, who spoke with CPJ, and news reports.
The men assaulted and robbed one journalist and stole equipment from two others. Two of the journalists were injured while fleeing the scene, they told CPJ.
"Authorities in Nigeria must identify all members of the group who recently attacked journalists working in Bayelsa state and hold them to account," said Angela Quintal, CPJ's Africa program coordinator in Durban, South Africa. "Police should conduct a swift and transparent investigation to send a clear message to all Nigerians that protecting the press is a priority."
The journalists at the scene included reporter Joseph Kunde and camera operator Miebi Binafiai with the privately owned Television Continental news broadcaster; reporter Awe Baratuapere and camera operator Ayebakuro Rhodes Egein with the government-owned Nigerian Television Authority; reporter Iniyekenime Doctor Bruce, with the privately owned Africa Independent Television broadcaster; and Folaranmi Femi, a correspondent for The Sun newspaper.
Those journalists told CPJ that the police provided them with a security escort to the area, but then left because of another assignment. The journalists had nearly finished their work when dozens of young men appeared, fired guns into the air, and attacked them.
Femi and Kunde said they ran back to the police base to alert the officers. Police returned to the village about 20 minutes later and used tear gas and shot in the air to disperse the crowd.
Before police arrived, Binafiai told CPJ, attackers pointed an AK-47 rifle at him and stripped him of his shirt and pants, which they used to tie his hands and legs. The men then kicked and punched him until the officers arrived and chased them away. Binafiai said he lost a tooth in the attack, for which he received medical treatment, and the attackers also stole his camera, a mobile phone worth 170,000 naira ($220), two microphones, and 7,000 naira (US$9) in cash.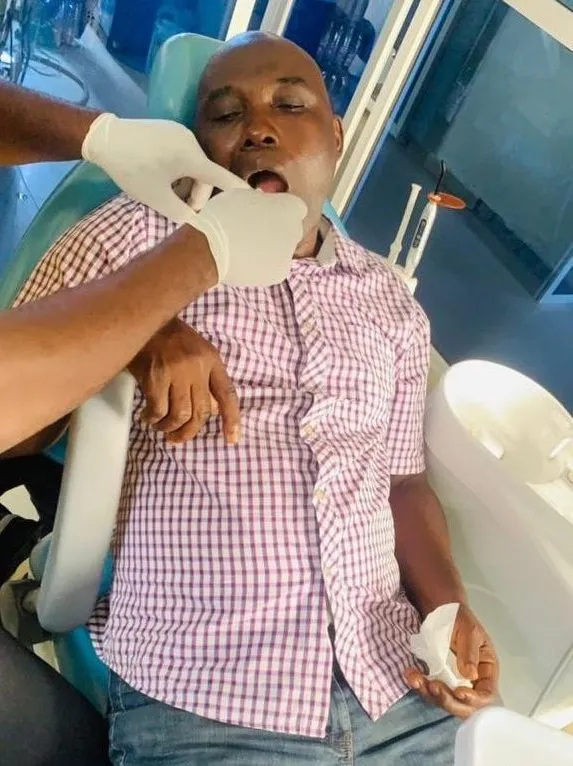 Journalist Miebi Binafiai is seen in a hospital after losing a tooth when he was attacked in Bayelsa State. (Photo: Folaranmi Femi)
Bruce told CPJ that she fell down while running away and pretended to be unconscious, but the attackers stole her mobile phone and camera as she lay on the ground. She said that the Nigeria Union of Journalists later recovered her camera, but it was broken.
Baratuapere said he lost his tripod while running from the attackers and sustained a small cut near his right knee.
Egein told CPJ that he fell over as he was running to seek sanctuary in a nearby house, and broke his ankle and hurt his knee. A woman followed him inside the house and threatened to hand him over to the attackers unless he gave her all his money and belongings. Egein said he gave her his mobile phone, iPad, earbuds, 5,000 naira (US$6) in cash, and his ATM card, which she later used to withdraw 77,000 naira (US$100).
Egein said the woman hid him for a while and then introduced him to two men who escorted him to the next village, where he stayed until the following morning.
The other five journalists said police took them to the station, where they filed a complaint and waited until about midnight for officers to safely escort them out of the area.
Bayelsa state police spokesperson Butswat Asinim told CPJ on August 28 that investigations were ongoing to recover the stolen items and identify the perpetrators.