Atiku Applies For A Waiver, May Challenge Party In Court If...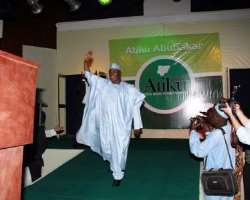 San Francisco, August 16, (THEWILL) – Nigeria's former Vice President, Alhaji Abubakar today in Abuja said he has applied to the leadership of the Peoples Democratic Party, PDP for a waiver to enable him contest the 2011 presidential election on the platform of the ruling party.
Atiku said this at a media interaction with media executives adding that his membership of the PDP remains valid in spite of claims from the Adamawa State chapter of the party that he has not been readmitted into the fold.
Atiku threatened to challenge the party in court should it fail to grant him the waiver arguing that since party chairman, Dr Okwesilieze Nwodo benefitted from the waiver, he too should be accorded same courtesy.
"I want to state here that all those provisions where not there before. They were inserted by Obasanjo to stop Atiku. I am a founding father of PDP and we crafted the constitution and by the time we did it, Obasanjo was not even in PDP. The Ekwueme Committee gave a report. In that report, it was recommended that there should be unconditional and unfettered return of those who left the party.
"The National Executive Committee (NEC) accepted the recommendation and directed state chapters to issue registration cards to those concerned. The report is valid. Lawyers say that I don't need any waiver. However, I have asked for a waiver. My application for waiver was filed this morning.
"I would get the waiver. This is because I moved out of PDP with Nwodo. He told me that he got a waiver based on the Ekwueme report. I don't need a waiver. In case I need a waiver, I have requested for it.
"I don't see how PDP will get out of this. If they don't do it, the court will then give an interpretation, " the former Vice President said.
"The constitution of the PDP provides how you become a member. Registration is at the ward level, not local government or state level. The constitution requires you to register where you reside, work or where you own a house. When I returned, I registered at my ward. I was issued a membership card when it was available. The governor said that I registered in the faction he did not approve. I went and registered in the one he said he approved. Therefore, legally, constitutionally, the governor has nothing to do with it. My membership is valid, legal and constitutional, whether Nyako likes it or not.
"Before I came back, as I said, there were two factions. When I came back, I called the two factions together for reconciliation. As far as the PDP constitution is concerned, I am a member of the party constitutionally and legally."
Article 8 (9) and 16 (4), and Article 8 (9) in the PDP constitution which addresses returnee members states as follows:
"Persons who desire to rejoin the party after leaving it shall, unless exempted by the National Working Committee, NWC, be placed on probation for a period of time not less than a year."
Atiku Abubakar formally declared his intention to run for the office of president on Sunday at the Transcorp Hilton in Abuja.