PDP Asks Edo Deputy Governor To Withdraw Court Case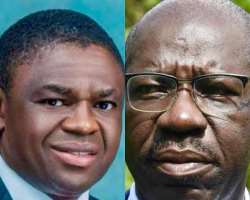 The People Democratic Party (PDP) has asked Philip Shaibu, deputy governor of Edo state to withdraw the suit instituted against the governor Godwin Obaseki.
This was the decision at the Extraordinary meeting of leaders of the Peoples Democratic Party in Edo Central Senatorial District held on Sunday at Igueben.
The meeting noted with satisfaction, the speedy and effective progress being made on the peace and reconciliation efforts to unite the contending forces within the Party, particularly in Esanland.
However, the deteriorating relationship between our Governor Obaseki and his Deputy Rt Hon Philip Shaibu, was noted with utmost dismay.
"We therefore urge the Deputy Governor to withdraw his suit forthwith and seek a political solution to the problem with his Principal.
"We are confident that the leadership of the Party in the State have the capacity to resolve whatever may be the issues between our leaders in Government," the party said.