CHARLES TAYLOR TRIAL REDUCED TO COUGAR FIGHT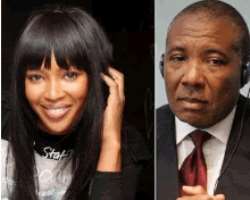 African War Crime trial of Charles Taylor at Hague featured cat fights between Mia and Naomi with their disgruntled friends and business partners. We watched as rivalry between them demeaned and upstaged a very important trial about man's cruelty to man. Here we are looking at a super movie star, a super model and their agents making an issue out of two or three little "dirty stones" in a pouch when there are actually evidence of killed and maimed Africans working in mines digging out huge raw diamonds. Where is their beef?
Whether we believe Naomi Campbell or not, that was a comparatively trivial matter between her and Charles Taylor on who kissed and told on whom. The trial was not between a man and a woman personal relationship or who spilled on whom as if this was another betrayal of the sexes like Sampson and Delilah. No doubt, it could be a good story for the gossip columns but to reduce a crime on humanity so important to Africans to sexual gossip is degrading.
It is still debatable what weight of evidence they expect to get from models and actresses who were just flirting with heads of states if their intent or motivation were not disclosed over their pillow talks. What is also not clear is if a serious court of law where matter as grave as this is being tried would entertain evidence such as those disclosed. If they were trying to use hearsay evidence to impeach Naomi Campbell, they have already failed except that they may have excited and influenced the public. She knows diamond when she sees one, diamond is a lady's best friend and what she saw was no diamond. The fact that she never kept it, dignified her.
After all, Mia Farrow claims that she exposed Naomi Campbell because of the atrocities in the blood diamond committed during civil wars by Charles Taylor in Africa. Whenever there is an opening, we can be sure that there are people willing to drive a truck into it. Nevertheless, the World Criminal Court must not be used as a wrestling match between two cougars and their associates. There is much more at stake than the mere meow sounds of Mia or Naomi.
The good name of Mandela that always host many heads of states have been dragged into this by association. Whatever it was that Mia Farrow and Naomi Campbell had for each other or who could attract more powerful men, or flirt more has spilled into war crime and celebration of blood diamond by a former agent suing Naomi for damages in court. People get fascinated as soon as sex and glamour get into a trial. So one of the sexes kissed, told and giggled getting others jealous by boasting about some conquest. But not into War Crime Trial, please.
This is one of the reasons some Africans have been skeptical about world trials of present or former head of states as in the case of President Omar Al Bashir of Sudan. The disproportional number of those tried would be Africans who may in fact have wronged their own people. The argument has always been that there would never be fair presence of war criminal heads of states from other continents. Since their criminal system has always resulted in disproportional numbers of Africans in prisons on these continents, we have a solid reason to be suspicious without sympathizing with a criminal like Charles Taylor.
We sure have our problems in Africa that deserve international exposure, otherwise many of us would be muzzled to death. Unfortunately, the gains of most of these crimes result in the favor and pockets of outsiders waiting for a change of government loyal to a block or a single nation, the raw materials, and loot deposited in their accounts. Anyone familiar with either the time or history of Lumumba will not pray for the way he was humiliated in death. His killers in Congo were protected for life even when rejected by their own people. None of them faced trial like Rwanda. The civil war between Hutu and Tutsi had ended into a stable State; and new election.
Charles Taylor was a well known felon that escaped American jail to participate in civil war in Liberia before he became the President. In the process, many African peace keeping soldiers were killed. Former President Obasanjo was advised to try him for murder when some countries settled on Nigeria as his place of exile. So he deserves to be tried, but sensation of his trial with who he flirt or had dinner with trivialized the crimes he committed against Africa.
There are different ways of making sure that the trials of war criminals from different countries are fair by selecting "neutral" judges and making available the best representation they could get. Once entertainers or stars are involved, media influence rushes in to exaggerate and sometimes demonize whoever some have grouse with. In the case of Charles Taylor, there is mountain of evidence in raw diamond to convict him without glamorized three little "dirty stones" by Mia and Naomi. It's a relatively sham evidence irrelevant to the trial.
The African Union need to establish a body where certain criminals, whether a politician or not can be made to face the consequences of his action while in power. In cooperation with the World Court, some other world leaders that have abused their privileges can be tried in African forum. We do not want to accept that Africans do not have the services or the expertise to produce the type of atmosphere needed for such trial. If African judges can perform creditable in World Court, other jurists can do the same in African environment.
Nigeria Peace keeping forces' role is second to none in conflicts around the world. The same Country has eminent legal scholars that can handle cases such as those presented at Hague. But our environment betrays us because of the way we deal with one another at home. It is what they point to, not the fact that we are kinder and gentler with foreigners. All nations have their internal problems, even those with racial and civil right violations have been able to develop an outlet through which many of the injustices are aired. We need more of those in African countries to be able to get the respect we deserve.
Disclaimer:

"The views/contents expressed in this article are the sole responsibility of the author(s) and do not necessarily reflect those of The Nigerian Voice. The Nigerian Voice will not be responsible or liable for any inaccurate or incorrect statements contained in this article."
Articles by Farouk Martins Aresa