HERE COMES SOUL, KIA'S LIFESTYLE OFFERING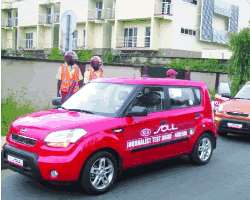 Kia Soul during the test drive
Since its arrival last November and until recently, the Soul was generally mistaken for an SUV with off-road capabilities.
Even last weekend when the new Kia was formally presented to the press, it needed to be clearly introduced as a vehicle in a world of its own; one which combines the silhouette of a saloon and exterior looks of an all-wheel SUV, for its true identity to properly sink.
But, it appears that this uniqueness, the in-a-world-of-my-own poise, is the force that has so far been driving it successfully into to the heart of the market.
The 1,6 litre engine Kia is basically a lifestyle vehicle designed for people who want to make a statement about themselves without uttering a word. And as confirmed by Chetan Mehan, Marketing Manager of the brand's distributor in Nigeria, Dana Motors, so far, the ladies seem to have been attracted to the car more than the men.
Sharing some characteristics with the smaller sibling, Cerato, especially in engine strength, the Soul gave more than a good account of itself during a test-drive that followed a brief introduction by Mehan and Dana Motors' General Mnager (Sales), Mohan Sethi.
Thanks to the four-speed automatic that yours sincerely drove, it was not difficult to understand why ladies, who usually crave for ease of driving, seem to have fallen in love with the Kia more than the men. Surprisingly, the five-speed manual version aws not really outdone by the smoothness of the AT.
Featuring an electronic controller, which monitors a range of parameters, the advanced four-speed automatic transmission gearbox ensures safe gear changes with excellent shift quality, while also adapting the transmission's performance and functions to suit individual driving styles. Several perfectly-harmonized parts allow for sporty shifting capability, including a line-variable pressure control thicker transmission case, and a disk-type return spring that prevents wear and tear.
Drivers who select the Soul manual transmission will enjoy quieter gear shifting as a result of improved friction and the application of a new type of poppet ball and rectilinear bearing. In addition, shifting is easier and more secure with the relocation of the reverse gear to the upper left side. Double- and triple-cone synchronizers, as well as a concentric slave cylinder for improving clutch pedal response also improve shifting efficiency and delivery.
In terms of design, the new Soul is rebellious with the purpose to bring you distinctive styling and a visually stimulating driving experience. With its a wrap around A-pillar, robust front view, high-tech features, and a fun-to-drive Interior, the Soul makes a splash everywhere it goes. And that was exactly what happened as the test-drive convoy cruised through the streets of Victoria Island and Ikoyi in Lagos.
It was easy to notice the sharp, black bezel headlamps set in chrome for a sportier appearance. The 'nude' cover on tail lamps provide a stylish opaque finish, placed uniquely on the C-pillar for sporty appeal.
Complemented by a prominent centre bumper, the Soul's uniquely-shaped grille is a hallmark of the Kia design identity. Breaking away from the traditional design parameters, the Soul's Interior design is largely driven by a design infused audio system , innovative lighting, and other colorful characteristics that are rebellious, urban and practical.
Kia seems not to have compromised on safety. Meeting optimal safety standards, particularly for today's young drivers and car enthusiasts, the Soul incorporates both advanced passive and active safety features, with the goal of achieving EURO NCAP 5-star ratings. Built on an all-new platform and featuring a highly accommodating design, unusually long (2,550 mm) wheelbase translates into a cavernous Interior and comfortable seating.
For young driver's safety and a joyful drive, Soul is applying not only passive safety features, but also active features. Amenities include glove Box, luggage power outlet, and driver's armrest, interior space has been efficiently managed. Moreover, passenger convenience has been enhanced to meet the needs of today's on-the-go populace.