Jonathan Can Contest – PDP NEC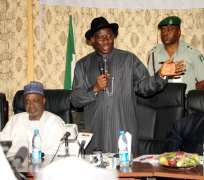 ABUJA, August 12, (THEWILL) – The National Executive Committee (NEC) of the Peoples Democratic Party (PDP) at its Thursday meeting at the PDP National headquarters in Abuja said President Goodluck Jonathan could contest in the 2011 presidential election adding that the party would not bar any aspirant from contesting.
The Chairman of the People's Democratic Party (PDP) Dr. Okwesilieze Nwodo said President Goodluck Jonathan had all the rights and privileges to contest elections in 2011 but did not mention whether the party supports him as full endorsement.
"The party believes that Dr Goodluck Jonathan as part and parcel of the joint ticket has the right to contest the presidential primaries for the 2010 elections, but this would not preclude anyone in the party from contesting," PDP National Chairman, Dr. Okwesilieze Nwodo told reporters at the meeting.
Apart from the short but sharp words from Nwodo no other decision taken was known at press time as reporters were told to call at the PDP Headquarters tomorrow (Friday) for the communiqué which was not ready.
Jonathan, no doubt needs the support of his party if he is to be sure of success in the polls because of a "zoning" agreement within the PDP which says the north has the turn to the presidency as it stands.
The decision of the party no doubt tallies with the recommendations of the Board of Trustees meeting held on Tuesday where the members threw their weight behind Jonathan but with a caveat that other members too have the right to contest the primaries to consolidate the PDP's current stance of openness and level playing field.