Nigeria Records 877 Kidnap Cases In Two Years – IGP Onovo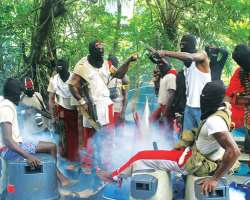 ABUJA, August 12, (THEWILL) - In the last two years (2008 and 2010) Nigeria has recorded 887 kidnap cases, a development that has taken a disturbing dimension, says the Inspector General of Police, Mr. Ogbonna Onovo.

Onovo revealed this today in Abuja at the one-day Emergency Brainstorming Session organized by the Alumni Association of the National Institute with the theme "Kidnapping as a Threat to National Security".

Reeling out statistical analysis of incidence of kidnapping in the country, Onovo said that available data revealed that between 2008 and 2010, incidents of kidnapping was highest in Rivers State with 216 cases, followed by Anambra State with 191 cases, Edo 166, Akwa Ibom 100, Delta 85, Abia state 68 and Imo state with 61 cases.

He attributed the menace to unemployment, poverty, ostentatious display of wealth and greed, adding that the incidence of kidnapping and hostage taking for ransom prevail in countries with high level of crime and corruption, a weak judiciary and a history of political, social conflict and instability.

The police boss pointed out some challenges to effective combating and investigation of kidnapping in the country which include fake or feigned kidnapping, uncooperative attitude of victim's family and friends, non-registration of Sim cards, time lag and bureaucracy involved in getting information from service providers, non-involvement of the police and lack of operational and intelligence capabilities.

Speaking at the occasion, Police Affairs Minister, Adamu Maina Waziri submitted that not only has kidnapping threatened the country's national security but national pride and image have been adversely affected by the trend, reasoning that Nigeria's economic interests have been punctured, with the fear that the country's ascent in the democratic ladder may be stalled.

President of the Alumni Association of the National Institute, Alhaji Jani Ibrahim at the occasion called for inter-agency cooperation in intelligence gathering and sharing, most especially agencies responsible for security and law enforcement to complement each other rather than compete with each other.

He noted that any strategy for reform must be anchored on transparency, accountability and equity, stressing that "we must not only tell it as it is, we must be prepared to hear it as it is".