Governor Yahaya Bello Dissolves Kogi Assembly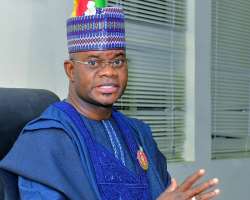 Governor Yahaya Bello of Kogi State has dissolved the outgoing Seventh House of Assembly.
The governor made the dissolution during the valedictory session held on the floor of the House on Monday.
The Governor cited relevant sections of the constitution to affirm that the Assembly is dissolved with immediate effect.
He said: "Whereas it is provided in Section 105 Subsection 1 of the Constitution of the Federal Republic of Nigeria, 1999, as amended, that a House of Assembly shall stand dissolved at the expiration of a period of four years commencing from the date of the first sitting of the House.
"Now, therefore, I Yahaya Bello, the Governor of Kogi State of Nigeria, in exercise of powers bestowed upon me by Section 105 Subsection 3 aforesaid, and of all powers enabling me in that behalf, hereby proclaim that the seventh (7th) Assembly of Kogi State House of Assembly is hereby dissolved with immediate effect.
"Given under my hand and the public seal of Kogi State of Nigeria at Lokoja, this Monday 5th Day of June, 2023."
Governor Bello had earlier extended gratitude everyone that contributed to the success of the 7th Assembly and urged all to forgive all offences, learn from past mistakes and prepare for the task ahead in governance.
According to him, loved people and with passion loves to uplift people, adding that he was looking forward to giving his valedictory speech as well as hoped that all the outgoing members would work with the next All Progressives Congress led administration of Alhaji Usman Ododo.
Governor Bello also urged them to always reciprocate the good gestures done them to other people.
He also urged those members who didn't return as members to support their incoming members, adding that it was not the end of the world for them.
The House resolved that the incoming members would continue where they stopped. The 7th Assembly has Kolawole Matthew as the Speaker.