Goodseed Daily Devotional 3rd June 2023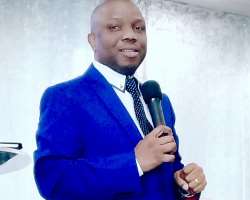 Apostle George Amadi (Lead Pastor: Goodnews Bible Church, London)
TOPIC: A KEY TO THE BLESSING.
SCRIPTURE: So then they which be of faith are blessed with faithful Abraham. Galatians 3:9.
It has been established that faith is key to profit in life and destiny. To operate in faith is to be profitable to your generation.
Now, one profit of faith in the life of the child of God is the blessing. Faith connects you to the blessing of God.
Psalm 27:13 says:
I had fainted, unless I had believed to see the goodness of the Lord in the land of the living.
This means, to believe God is to see His goodness; to believe or to be in faith is to see the goodness of the Lord. Faith is the doorway to existence in the world of the blessing.
Let me give you a practical example from contemporary times. There are people who are always referred to as Word of faith people. These are people who exist in the realm of brutal faith. They talk faith, act faith and do everything by faith. Some people hate them because everything about them is faith. The truth is, even though they are hated, they are people of integrity with massive exploits and stupendous wealth because of their lifestyle of faith. They stick to one wife for life. Some examples of these people of faith include Kenneth Hagin, Oral Roberts, Kenneth Copeland, Bishop David Oyedepo, etc.
Beloved, to live in faith is to exist in the Blessing. Ask God for a fresh baptism of the Spirit of faith. Make up your mind to connect to the Blessing through faith. Reject any form of unbelief from your life.
PRAYER: Thank You Lord for showing me Your Word today. I receive the grace to connect Your Blessing through faith, Lord, in Jesus' Name.
Goodseed Daily Devotional is the publication of Apostle George Amadi- Senior Pastor Goodnews Bible Church London. If you are in the London area do worship with us at 2nd Floor Unit 4 Westmoreland House Scrubs Lane White City NW10 6RE