Goodseed Daily Devotional 1st June 2023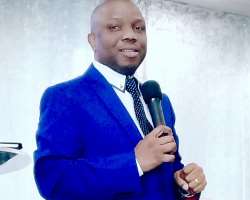 Apostle George Amadi (Lead Pastor: Goodnews Bible Church, London)
TOPIC: THE TRAP OF BITTERNESS
SCRIPTURE: And his lord was wroth, and delivered him to the tormentors, till he should pay all that was due unto him. So likewise shall my heavenly Father do also unto you, if ye from your hearts forgive not everyone his brother their trespasses.
Matthew 18:34-35.
Welcome to the Month of June, We appreciate God for bringing us to the sixth month of the year. He who has begun a good work in our life shall complete it, in Jesus' Name.
We shall begin our study this month with the subject of unforgiveness. Unforgiveness or bitterness has been identified as a trap the enemy uses to destroy many lives.
Unforgiveness is a situation where you feel so terribly offended by someone that you become bitter against the person. And you know, the worst form of offence usually comes from those who are meant to love you or those you assisted but later turned against you. They could be your parents, siblings, uncles, cousins, friends, etc.
This is why Matthew 10:36 says:
And a man's foes shall be they of his own household.
The devil can purposely send people to offend you unto destruction. Please know that not every agent of the devil comes to attack you with a gun. There are many agents of the devil who come to attack you with "offence." and after the offence comes bitterness, and bitterness invites torment (Matthew 18:34-35).
While I was in the law school, a lady came to me and told me that her father wants to attend her call to bar (graduation) but she would not let him because she divorced her mother and abandoned them as children.
I found out she was so biter with her father this was affecting her health and performance in school. I told her to forgive her father and to the glory of God she forgave and invited him to the ceremony. This ultimately led to the reconciliation of the whole family- Glory to God.
You see, unforgiveness is a trap of the enemy. Refuse to be trapped by unforgiveness. Release and forgive all those who have offended you. Ask God for the grace to forgive and release all those who have offended you.
PRAYER: Thank You Lord for showing me the path of life and good health. I refuse to be entrapped by bitterness. I receive the grace to forgive and release all those who have offended me, Lord, in Jesus' Name.
Goodseed Daily Devotional is the publication of Apostle George Amadi- Senior Pastor Goodnews Bible Church London. If you are in the London area do worship with us at 2nd Floor Unit 4 Westmoreland House Scrubs Lane White City NW10 6RE