Goodseed Daily Devotional 30th May 2023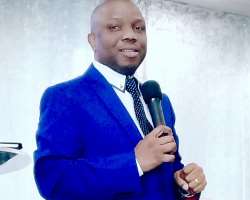 Apostle George Amadi (Lead Pastor: Goodnews Bible Church, London)
TOPIC: BLESSED BY BEING A BLESSING
SCRIPTURE: And I will make of thee a great nation, and I will bless thee, and make thy name great; and thou shalt be a blessing:
Genesis 12:2
Our anchor Scripture confirms that no one can be blessed by God until he is a blessing. God told Abraham, I will bless you and thou shall be a blessing (Genesis 12:2). When you make up your mind to live as a blessing especially to the poor, then you trigger the Blessing upon your life (Psalm 41:1-3). This is an activation key to the blessing.
God blesses us to the capacity to which we agree to be a blessing. The extent you are willing to be a blessing is the extent to which you will be blessed by God.
Being a blessing entails being a blessing to the Kingdom of God and to humanity especially the poor. When your life is flowing like a river reaching out to the poor, to the Kingdom, family members, etc. it cannot dry.
In Psalm 132:1-5, we see how David decided to be a blessing to the Kingdom of God and that decision brought him to a realm of irrevocable blessing (1 Chronicles 29:1-3).
Beloved, it is a new day for you. The Blessing of God is coming on you as you make yourself a flowing river of blessing to others, in Jesus' Name.
Today,
Look around you, locate someone who is in need of help such as an orphan, a widow, etc. and be a blessing to the person.
Be involved in Kingdom projects.
PRAYER: Lord, I receive the grace to be a blessing to the Kingdom and to my generation. Make me a depot of Your resources, and I will gladly be a distribution channel to people in need, in Jesus' Name.
Goodseed Daily Devotional is the publication of Apostle George Amadi- Senior Pastor Goodnews Bible Church London. If you are in the London area do worship with us at 2nd Floor Unit 4 Westmoreland House Scrubs Lane White City NW10 6RE