Goodseed Daily Devotional 29th May 2023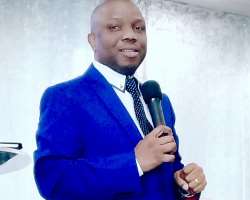 Apostle George Amadi (Lead Pastor: Goodnews Bible Church, London)
TOPIC: BREAKING BARRIERS BY THE BLESSING
SCRIPTURE: And Abram took Sarai his wife, and Lot his brother's son, and all their substance that they had gathered, and the souls that they had gotten in Haran; and they went forth to go into the land of Canaan; and into the land of Canaan they came. Genesis 12:5
Recorded events in Scripture and experiences of people in contemporary times have made it clear that it takes a greater force, which is the force of God's Blessing to overcome the forces acting against the lives and destinies of people.
Abraham's father, Terah, was going to Canaan but he died on the way, in the land of Haran (Genesis 11:26-32). He had three sons: Nahor, Abram, and Haran, the father of Lot. Haran died before his father. Nahor existed without relevance. So, in their family, they had the trinity of starting without finishing, living without relevance and dying before time. That trinity of calamity existed in Abraham's family before the Blessing came upon him. The Blessing distinguished him and made him the first to fulfil destiny. So, the Blessing of God in the life of a person forbids the existence of barriers and embargoes. It empowers the blessed to exist as a barrier breaker, obstacle crosser, limit breaker and territory taker. It also establishes the blessed as a generational pacesetter, standard bearer and reference point.
Beloved, when the Blessing is upon you, you reach where no one in your family has reached. So, do not be afraid of daring the undareable if the Blessing of God is upon you.
I declare that where your family members have never reached in life, you are reaching and going beyond there by the power of the Blessing, in Jesus' Name.
PRAYER: Lord, I subscribe for Your barrier-breaking Blessing upon my life. Make me a pacesetter in my generation, Lord, in Jesus' Name.
Goodseed Daily Devotional is the publication of Apostle George Amadi- Senior Pastor Goodnews Bible Church London. If you are in the London area do worship with us at 2nd Floor Unit 4 Westmoreland House Scrubs Lane White City NW10 6RE