No Plan To Remove Allison-Madueke – Presidency, Cautions Media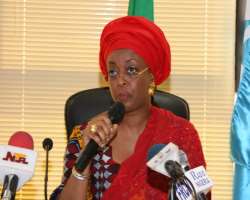 PHOTO: NIGERIA'S PETROLEUM MINISTER, MRS DIEZANI ALLISON-MADUEKE.

ABUJA, August 11, (THEWILL) - Contrary to media reports, the Presidency today said it was not in anyway planning the removal of Mrs. Dieziani Allison-Madueke, as Petroleum Minister, saying that the female Minister was currently responsible for articulating wide-range legislations to overhaul the oil and gas industry at National Assembly, THEWILL has learnt.
In view of this development, it has reassured members of the Organized Private Sector (OPS), especially the international business community to continue to carry out their lawful business hunts with the Ministry of Petroleum Resources and its parastatals, including the Nigerian National Petroleum Corporation (NNPC), at all times, as Government had no plans to effect any changes in the leadership of the ministry.
A presidency source noted that the rumour of the minister's planned sack was the handiwork of political opponents who believed that the control of the Ministry of Petroleum was a no less political asset to a presidential aspirant in the 2011 general elections.
This was just as President Goodluck Jonathan today condemned the resort to speculations and rumour mongering by political opponents to weaken their opponents, advising the mass media to remain agents of development rather than being used to destabilize the polity.
Meanwhile three newly appointed ministers were sworn-in by President Goodluck Jonathan, who immediately assigned portfolios to them, even as two serving ministers were redeployed.
Jonathan also swore-in two INEC Commissioners, Ambassador Mohammed Ahmed Wali and Dr Christopher Emoga, as well as Professor Dan Adebiyi as the Special Adviser on Policy Monitoring and evaluation.
Reacting to reports that he was planning his minor cabinet change ahead of presidential and parliamentary elections, as part of the swearing-in ceremony, Jonathan said, "nobody will know if I want to remove any Minister".
The president noted that the reported rumour of the Minister's removal was capable of scaring potential investors from investing in the nation's oil and gas sector and pleaded with the Nigerian media to always be guided by professionalism rather than being used to fight press war.
"What we read in the media convey a kind of sponsored press war; this is not helpful to the nation. If a minister is not to be removed and you continue to tell the world that the minister is to be removed, what you publish affects the ministry drastically as people who have one thing or the other to do with that ministry will become careful, they would want to wait for the day the minister will be removed which will not come.
"I assure you that if I am to redeploy a minister you will not know until the announcement will be made. So all these speculations about redeployment or removal, I plead with the media, please help Nigeria because you are not serving us if you publish spurious stories, because they are being sponsored by some interests group", he said.
According to him, "a minister that is to be redeployed or is being redeployed is not an indictment, but for one reason or the other, in some cases to strengthen some other departments of government".
Addressing the new appointees, Jonathan said, "Today we have sworn in three Ministers, two INEC Commissioners and one Special Adviser to serve. You have taken your oath of office not to serve Goodluck Ebele Jonathan but to serve, Nigeria and Nigerians".
The President challenged them "to go and do your best to serve our dear country and motherland to make sure that we improve on any situation that we meet as we go to the office"; saying that "I believe that you will do your best, some of you I have interacted with you for quite some time and I know you will give us the best of service".