Why Accusatory Tactics Won't Help Matawalle And Other Governors On The Efcc Watch List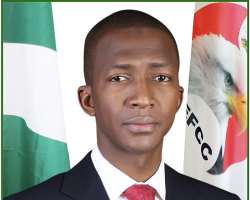 The Citizens Advocacy for Social & Economic Rights (CASER) is concerned with the adoption of accusatory tactics by some politically exposed persons (PEPs) who have decided to use malicious accusations to intimidate public officials, particularly those working in law enforcement, anti-corruption and the judiciary in the hope to divert public attention from their cases of humungous corruption and mindless stealing of public resources.
Nigerians have suffered dramatically from the consequences of deliberate misgovernance in the hands of politicians, particularly state governors, many of whom have failed to deliver on the provision of essential government services because they have diverted allocated state resources for their private use and the security of their future and that of their immediate family.
Undoubtedly, many State Governors are jittery and apprehensive as their tenures end and the days of reckoning with their use of state resources are fast drawing near. These fearful governors, including their appointees, have abused the trust of public office by corruptly enriching themselves instead of using the resources of their states to improve the security and welfare of the people.
Therefore it doesn't come as a surprise that one of them, Gov. Bello Matawalle of Zamfara State, has chosen to stretch the expiring fortunes of his immunity as a sitting governor to make allegations against the EFCC Chairman, Abdulrasheed Bawa, knowing that, according to information at our disposal, investigations on the malfeasance of his administration are nearly concluded and that he would be indeed arrested immediately he leaves office.
CASER, therefore, urges the EFCC and the Nigerian public not to be deceived by the antics of the Zamfara State governor but insist that he immediately makes public the details of his allegations against Bawa as the expected public sympathy he had hoped to get by his sensational accusation would not help him escape the thorough investigations that the EFCC had begun against him.
Anyone can make wild allegations against any other person but such a person peddling damaging statements against the reputation of another must be prepared to substantiate such allegations or face the consequences of such a misadventure.
Nigerians and the in-coming administration of Bola Ahmed Tinubu must not allow this Matawalle's new accusatory tactics to stand as it would serve as an odious means to be adopted by other governors facing investigation to adopt it by simply throwing accusations against judges, prosecutors and investigators in the hope to discredit them as a way of diverting attention from their act of corruption and financial crimes.
But on the other hand, nevertheless, if the allegations being levelled against the EFCC chairman do possess a scintilla of evidence corroborating Matawalles's claims, he must immediately be investigated by the appropriate committee of the National Assembly and, if not true, then Abdulrasheed Bawa must be given all the necessary support to withstand the nefarious antics of unscrupulous and corrupt politicians and public officeholders who would stop at nothing in their attempt to bring him down. They must not succeed!
FOR: CITIZENS ADVOCACY FOR SOCIAL & ECONOMIC RIGHTS (CASER)
Collins Abia, Esq.
Programme Officer (Socio-Legal)