Princess Aina Atayero: Memories Of A Beautiful Soul.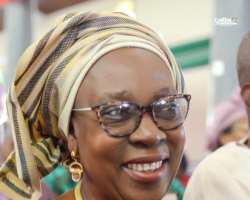 Shock. Anger. Sadness. And acceptance.
At first, I thought it was one of those titillating tall tales from the tunnel of Tophet. It did not sound real or plausible. It sounded strange because it was not supposed to be her. It was not something that I had expected. Or anyone had expected. And who would have expected such a sorrowful development?
But the harbinger of the news was not a frivolous person by any means. Neither is he a waggish character. He is a man of substance. A distinguished professional. A perfect definition of serious mindedness. A man with a weighty reputation. He is as solid as they come. After I read the post, I had to check the source. I had to ascertain it was someone who knew what he was doing.
After discovering that it was Root Diran Olarewaju conveying this unexpected news, I felt a gripping gelidity. Stunned. I was shocked. Then I became angry. And I wondered why good people die. We have so many undesirable elements that this world could do without. Elements whose absence would be a source of relief to many.
Why is death so inconsiderate? Why is it untutored in these matters? Why is death so arrogant and would not seek to be guided? Why is death flagrant in flailing its ignorance with obnoxious arrogance? Why is it this mean and cruel? How come it is always looking for good people? Why is it flinty and savage?
Even John Donne was also upset with death as evident in his "Holy Sonnet X".
"Death be not proud, though some have called thee
Mighty and dreadfull, for, thou art not soe,
For, those, whom thou think'st, thou dost overthrow,
Die not, poore death, nor yet canst thou kill mee
From rest and sleepe, which but thy pictures bee,
Much pleasure, then from thee, much more must flow,
And soonest our best men with thee doe goe,
Rest of their bones, and souls deliverie.
Thou art slave to Fate, Chance, kings, and desperate men,
And dost with poyson, warre, and sicknesse dwell,
And poppie, or charmes can make us sleepe as well,
And better than thy stroake; why swell'st thou then?
One short sleepe past, wee wake eternally,
And death shall be no more; death, thou shalt die."
The death of Princess Ruth Aina Atayero was another shrinking of our humanity in our community. Though we were not familiar with each other until last December, thanks to her genteel and urbane husband, Prince Samson Atayero. Our encounters, as brief as they were, were very memorable. They were very impactful. The chemistry between her and my Ajike was magical. It was magnetic.
We met at several parties. But the memorable ones were the ones at the residences of Pa Akin Akinola and Root Yemi Oguntominiyi. Later, our own aristocrat, her husband, Prince Atayero, had extended a special invitation to Ajike and me to join them at a Thanksgiving Service at St. John's Church at Iloro.
At Baba Sawe's party, we sat together. She had adorned a delightful fedora, looking gorgeous. Charming. Engaging. She laughed as often as she could. Her laughter, soft in modulation, tinged with acetate, echoed sonorously. It was hearty. It was genuine. It was emblematic of a soul unencumbered. Ungagged. Free. And beautiful. She radiated queenly dignity and carriage.
At the breaking of the sad news, I recalled in my mind the thanksgiving ceremony at St. John's Church, Iloro. It was an exudation of a grateful heart to almighty Eledumare. Her grateful heart was manifested through her unalloyed joy and happiness. Her enthusiasm and excitement were palpable.
Later at their beautiful residence where a small reception was held, she gave due attention to her guests, ensuring that everyone had a nice time. She was energetic, zestful, and sprightly. She doted on us. Like a mother that she was, she catered, cared, and tended the guests.
With this sad occurrence, that we had an opportunity to mingle and relate in those few weeks underscored the cause to praise Eledumare for His blessings. Once again, it pinpointed why we should appreciate ourselves the more. Why we should cherish each other. Our gatherings, celebrations, commemorations, and observances should be revered and taken as golden opportunities to revel in each other's company.
The passage of Princess Ruth Aina Atayero underlines for our attention, our mortality. It highlights our ephemerality. It reminds us of our temporal sojourn here.
Death is an end to which all of us must necessarily come. It does not matter how we roll, dice, play, shuffle, or juggle it. It is inevitable. But no matter how much we appreciate this reality, to lose a loved one is a debilitating emotional challenge. It is always tough. It is a scar from which many never healed.
This reality is probably what drove John Donne in his Meditation XVII to write the following words:
"Any man's death diminishes me, because I am involved in mankind, and therefore never send to know for whom the bells tolls; it tolls for thee."
May the beautiful, jovial, vivacious soul of Princess Ruth Aina Atayero, rest in peace.
I pray for all the family members, (immediate and extended), all the friends, acquaintances, that God will grant us the fortitude to bear this irreparable loss.
Lies never last, History never dies and the TRUTH is always constant.
-Remi Oyeyemi