Traffic Jam: Traffic Management Issue In Metropolitan Lagos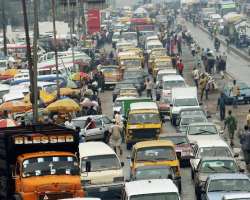 Everyday, indigenes and residents of Lagos State are dumbfounded by the unprecedented and enormous traffic jam on the roads of Lagos. From the Island to the mainland, and other parts of Lagos, the traffic jam seems to be appreciating rather than depreciating until it is stationary. A careful description of the causes, results, and solutions of traffic jams in Lagos State are the focus of this article.
Overpopulation in Lagos is a major cause of traffic jam in Lagos. Everyday, millions of people relocate to Lagos from other parts of Nigeria like Ogun State, Rivers State, Benue State, Kwara State, etc. These enormous number of people cause a increase in the number of people who reside in Lagos. Hence, this leads to traffic jam as most of these people use road transportation.
Meanwhile, the problem of deplorable roads cannot be underated. In some areas of Lagos State, there are bad roads which are the causes of most accidents. Road accidents often occur in local governments where there are bad roads in Lagos State.
Inevitably, these have led to death. Various lives have been lost due to traffic jam. For instance, an ambulance urgently moving patient to an hospital most likely get stuck in Lagos State traffic jam; hence, the patient could die if it is a fatal injury or accident.
Similarly, impunctuality has become a norm in Lagos State amongst civil servants and business owners as a result of traffic jam. Most civil servants we fond of using traffic jam as excuse for not being punctual to work, even when it is not. Well, it is not far from the truth that Lagos State traffic jam could cause impunctuality of workers. In fact, some employees have lost their jobs due to frequent lateness to work; also some employers have rejected some potential employees because they were late to interview.
In a bid to solve this imminent problem, I implore Lagos State Government to leverage other means of transportation, especially water transportation. Indeed, water transportation has begun for years, yet only a few people use it owing to the fact that people do not trust the means. Lagos State Government should provide adequate safety facilities to all water transportation centers; also, the fare should be made cheaper than road transportation.
Disclaimer:

"The views expressed on this site are those of the contributors or columnists, and do not necessarily reflect TheNigerianVoice's position. TheNigerianVoice will not be responsible or liable for any inaccurate or incorrect statements in the contributions or columns here."