Goodseed Daily Devotional 24th May 2023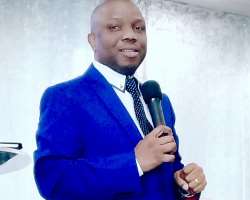 Apostle George Amadi (Lead Pastor: Goodnews Bible Church, London)
TOPIC: THE GLORY AND THE SUPERNATURAL.
SCRIPTURE: This beginning of miracles did Jesus in Cana of Galilee, and manifested forth his glory; and his disciples believed on him. John 2:11
The glory is the secret of the supernatural. The supernatural display of God at the wedding in Cana of Galilee happened because the glory was in manifestation.
Now, what does the glory do?
The glory is the sponsor of creative miracles (John 2:1-11). When water turned into wine, that was a creative miracle. You are always sure to see creative miracles where the glory is present.
The glory triggers the initiation of new beginnings. It was the beginning of miracles in the Ministry of Jesus, and it began by the glory (John 2:11). When the glory manifests, new things begin – new homes, careers, opportunities, etc.
The glory is the secret of supernatural supply. Where the glory flows, supplies are effortless (John 2:7-8).
The glory is the secret of deliverance from danger and death. When the children of Israel ganged up against Moses, the glory of the Lord arose and defended Moses from them (Numbers 16:42).
The glory of the Lord activates the vengeance and judgment of God. Witches and wizards, occultists, agents of the devil, etc. are judged when the glory manifests (Numbers 16:42-48). Anywhere the glory manifests, the wicked are unsafe.
The glory of God will bring new things into your life. Your enemies shall be judged and supernatural supplies will flow effortlessly in your direction when the glory is present.
Beloved;
Spend time with God at the place of worship and prayer.
Ask God for the release of the benefits of the glory.
Avoid the lifestyle of sin; sin makes a person to fall short of the glory (Romans 3:23).
PRAYER: Lord, I ask that You give me a heart that will please You permanently. Show me Your glory Lord and cause me to experience the benefits of Your glory, in Jesus' Name.
Goodseed Daily Devotional is the publication of Apostle George Amadi- Senior Pastor Goodnews Bible Church London. If you are in the London area do worship with us at 2nd Floor Unit 4 Westmoreland House Scrubs Lane White City NW10 6RE