Goodseed Daily Devotional 23rd May 2023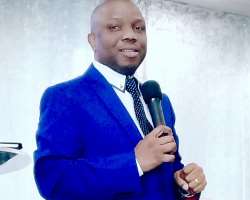 Apostle George Amadi (Lead Pastor: Goodnews Bible Church, London)
TOPIC: YOUR PASSION AND YOUR VISION.
SCRIPTURE: And when he was full forty years old, it came into his heart to visit his brethren the children of Israel. Acts 7:23
Vision is the revelation of God's plan for a person's life. When a person comes to the point of understanding God's plan for his or her life, that person is at the point of vision.
One of the ways you can arrive at vision is by discovering your heart's passion.
Take note of these two things regarding passion.
1. The Passion of the heart is clue to the purpose of life. Whatever is a passion in your heart is connected to the purpose of your life. Hence, passion is a foundation for vision. It came to Moses' heart to visit his people – it was a passion that revealed his purpose (Acts 7:23).
2. Passion is your vehicle to your portion in life. Passionless people are portion-less people.
Now, what is passion? Passion can find expression in the problem you are yearning to solve. Your passion is what will not leave your heart alone.
What is the connection between vision and passion?
1. Passion influences vision and fuels drive.
What is your passion soon becomes your vision and then begins to drive you. It is possible to have vision without passion. And where there is vision without passion, there is bankruptcy of motion; nothing changes.
2. Passion fuels pursuit and persistence.
Where a man has passion, there he would not lack pursuit. The passion of your heart makes you to pursue and persist in vision.
Beloved, I therefore advise you to Maintain the Presence of God, the Consuming Fire; you cannot be around fire and be cold (Proverbs 13:20). And secondly, Associate with passionate people.
PRAYER: Lord, I ask that You draw me closer to You. Set my heart on fire Lord, and cause me to fulfil my vision and purpose for life, in Jesus' Name.
Goodseed Daily Devotional is the publication of Apostle George Amadi- Senior Pastor Goodnews Bible Church London. If you are in the London area do worship with us at 2nd Floor Unit 4 Westmoreland House Scrubs Lane White City NW10 6RE