BANKS IN FRESH TROUBLE, ANOTHER ROUND OF MASS SACK LOOMS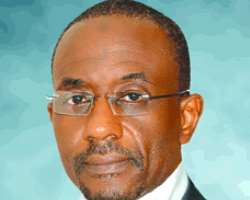 Sanusi
Fear of another mass retrenchment continues to hunt workers employed by subsidiaries of some of the nation's deposit money banks, as indications appeared recently that the regulatory authorities may make real their threat to shut down companies in the group considered as a distraction to the attainment of sound banking culture.
Reliable banking sector sources told Daily Sun last week that most of the subsidiaries established in the wake of the adoption of universal banking concept in Nigeria may be allowed to die naturally considering that the Central Bank of Nigeria recently dumped the universal banking model.
If the authorities decide to proceed with the idea as planned, then the affected banks may be compelled to either close down some of the existing subsidiaries or merge them as departments of the parent companies.
It would be recalled that under the universal banking model, banks were encouraged to diversify into such segments as insurance, mortgage, stockbroking, custodial services, trusteeship and allied services among others and in the process created jobs for thousands of Nigerians.
However with CBN's recent decision to dump universal banking for a model that allows for specialization among banks, the apex bank believes it is time to do away with such organizations which many believe was no long in tune with the demands of the times.
Besides, part of the reasons the regulators are favourably disposed to closing these companies was because some of them are believed to have been used as drain pipes through which management of the parent companies siphon resources of the holding companies. As a matter of fact, it is largely believed that some of these organizations have over the years existed as cost centres that contribute little or nothing to the group's bottom line hence they are seen as a cog in the wheel of the current banking reform.
The regulators believe that incorporation of some of them were done not based on need but as a drainpipe that takes away funds from the parent companies. A source which prefers anonymity wondered what business some of the leading deposit money banks still have in microfinance banking sector which should have been left to small and medium entrepreneurs when actually their financial intermediation services to the Nigerian business community is still suffering serious neglect.
A fortnight ago the CBN governor Mallam Sanusi Lamido hinted that the apex bank was working with other regulators to set up a single non bank registrars department to forestall the abuse to which banks have subjected their registrars department.
First Bank of Nigeria, Union Bank of Nigeria, Afribank Plc and UBA Plc, Zenith Bank Plc are among the most diversified financial institution in the country, as their subsidiaries currently employ thousands of workers whose jobs may be on the line if the companies are eventually closed down.