CPJ Calls On Kenyan Authorities To Ensure Accountability In Attacks On Press Covering Protests
Nairobi, April 5, 2023—Kenyan authorities should thoroughly and credibly investigate recent attacks on journalists covering protests and ensure that the perpetrators are held to account, the Committee to Protect Journalists said Wednesday.
Protests took place in parts of Kenya on three different days between March 20 and 30, led by the opposition Azimio la Umoja political coalition over high costs of living and allegations of fraud in the country's 2022 election, according to news reports.
Police and members of the public harassed and physically assaulted journalists covering the demonstrations, and at least two were briefly detained, according to statements by press rights groups and five journalists who spoke to CPJ.
President William Ruto and Police Inspector-General Japheth Koome issued separate statements saying that attacks on journalists by police had not been "deliberate." Ruto promised to "deal with" deliberate attacks on the press, and Koome said authorities would investigate such incidents.
"Verbal commitments to press freedom and journalists' safety in Kenya are welcome, but they ring hollow without concrete steps to hold the police and members of the public who harassed and assaulted journalists accountable for their actions," said Muthoki Mumo, CPJ's sub-Saharan Africa representative. "Authorities must thoroughly investigate the recent attacks on members of the press covering recent opposition protests, hold those responsible to account, and replace any damaged media equipment."
On March 20, a group of protesters in Nairobi's Kibera neighborhood used stones to shatter the windshield of a vehicle belonging to the privately owned broadcaster NTV, according to news reports and a report by the outlet.
INCIDENTS IN NAIROBI ON MARCH 27
Two police officers arrested camera operator Clint Obere and reporter Calvin Rock, both with the investigative media outlet Africa Uncensored, while they interviewed boda boda (motorcycle taxi) drivers, according to a video published by the outlet and Rock, who spoke to CPJ by messaging app. The officers accused the journalists of assembling a crowd, forced them into a police vehicle with six other officers, drove them to the nearby Mathare neighborhood, and released them unconditionally after 30 minutes. One of the officers pointed her phone's camera at the journalists' faces, as if to take a photo or record footage, and warned them that they should not return to Juja Road, where they had been reporting.
A police officer confronted NTV reporter Ngina Kirori, demanded that she stop recording with her mobile phone, and grabbed her press card, damaging it, according to a report by NTV. The officer then grabbed Kirori's phone, deleted a video she made of the police in the area, and ordered her to leave. Kirori refused and continued to report.
Police officers also fired two tear gas canisters at an NTV vehicle carrying a crew trailing the convoy of opposition leader Raila Odinga, breaking the rear window, according to a report by the outlet and tweets from Kirori, who was inside the NTV vehicle. Protesters climbed onto the news organization's pickup truck, damaging it from their excessive weight. The crew, stranded between police officers firing tear gas and protesters throwing stones, abandoned their vehicle and sought refuge in a local church, hiding for about three hours.
Police used water cannons to spray five camera operators from various outlets who were sitting on top of a vehicle, according to a report by NTV and Eric Isinta, one of those journalists, who spoke to CPJ via phone. Isinta said the water damaged his camera and live broadcasting equipment, cumulatively valued at about 3 million shillings (US$22,550).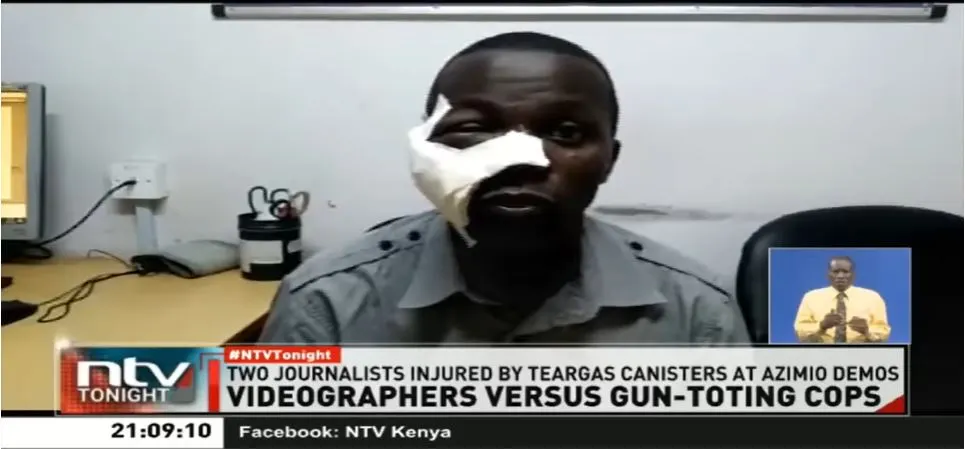 Kenyan police used water cannons to spray Eric Isinta and four other camera operators from various outlets who were sitting on top of a vehicle on March 27, 2023. On March 30, police hit Isinta in the face and chest with tear gas canisters. (Screenshot: YouTube/NTV)
Members of the public, some of who were armed with machetes and other weapons, attacked at least four journalists with the privately owned broadcaster Citizen TV, punching one in the face, stealing another's wallet, and using stones to break a window of the crew's vehicle, according to a report by the outlet. Seth Olale, a reporter who was part of the crew, tweeted that they reported the incident to police.
NTV reporter Vincent Oduor told the outlet in an interview that a group of people chased him and camera operator Dickson Onyango with machetes and tried to rob them of their broadcasting equipment.
INCIDENTS IN OTHER PARTS OF THE COUNTRY ON MARCH 27
At Northlands, a farm on the outskirts of Nairobi owned by the family of former President Uhuru Kenyatta, a group of people looting confronted Steve Otieno, a reporter with the privately owned newspaper Daily Nation, and accused him and his crew of "exposing them to the public," according to a report by the outlet and Otieno, who spoke to CPJ by phone.
About 10 looters pushed Otieno to the ground, punched him, stole his phone, and hit him on the head three times with a machete handle. Otieno was treated at a hospital and reported swelling to his neck, head, and one of his ears, a headache lasting several days, and blurred vision in his right eye for two days. Otieno reported the incident to the police.
Also at Northlands, a group of looters tried to forcefully pull NTV reporter Brian Muchiri out of a company vehicle through a window; and moments later threw a rock that shattered a window in the same vehicle, which was carrying two other journalists and a media worker from NTV and Daily Nation, according to news reports. Muchiri received medical treatment at a hospital for minor injuries.
When asked about the police's slow response to the violence at Northlands, Koome said that the police had been overstretched with other distress calls.
In the town of Kapsoit, in the western county of Kericho, people who had set up a barricade on a road chased NTV reporter Winnie Chepkemoi and then punched her, kicked her, pulled her hair, and damaged her phone, according to news reports and Chepkemoi, who communicated with CPJ via messaging app. She received medical treatment at a hospital for injuries to one of her legs, which was swollen, and filed a report with Kapsoit police that same day, according to those sources and Joe Ageyo, the editorial director of Nation Media Group, who spoke with CPJ by phone.
INCIDENTS ON MARCH 30
In Nairobi's Embakasi neighborhood, police fired tear gas and water cannons at five camera operators from various outlets sitting atop a vehicle, according to Isinta, who was on the vehicle, and news reports.
A gas canister hit Timon Abuna, with privately owned KTN, on the head, according to a report by the news outlet and Isinta. Another canister fell inside Isinta's shirt, burning him on the chest, while a second canister hit him on the left cheek. Isinta fell to the ground and was knocked unconscious for a few minutes. Isinta told CPJ that when he asked a passing police officer for assistance, the officer called him a "dog" and told him to "die." Isinta and Abuna both received medical treatment for their injuries.
In the western city of Kisumu, protestors threw stones at Dismas Nabiswa, a Citizen TV camera operator, stole his phone, and damaged his broadcasting equipment, according to a report and a statement by the Kisumu Journalists Network, a regional welfare group, which CPJ reviewed. Nabiswa received medical treatment for fractured ribs.
CPJ's requests for comment sent to Resila Onyango, a national police spokesperson and Makau Mutua, spokesperson for Azimio la Umoja, did not receive any replies.