Uduaghan sponsors Ibori's b/day bash… but distance himself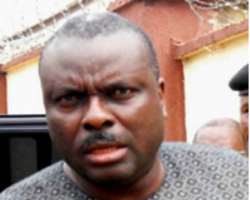 In Commemoration of the 52 nd birthday anniversary of former governor of Delta state, Chief James Ibori who is presently awaiting interdiction to the United Kingdom in Dubai over gross corruption charges, incumbent Delta state oil and gas rich governor, Dr. Emmanuel Uduaghan sponsored a birthday bash for him in absentia. The birthday anniversary, anchored by the Pro-Ibori Group held at the Mom Civic Centre , Airport road in Warri and was well attended by all the former governor's friends, especially those who served as commissioners, board members, legislators and local government council chairmen who had benefitted from him in one way or the other during his reign in affluence as governor of Delta state . Findings revealed that Governor Uduaghan solely funded the birthday anniversary but decided not to attend for security reasons and considering his second term bid or what the people may say about his unending deals with his embattled cousin, James Ibori. The Pro-Ibori Group's leader, Mr. Emami Ayeri claimed that the anniversary was to celebrate the former governor's giant strides in infrastructure development and empowerment of the people. "He was a mentor to all of us. He is dear to the heart of many Deltans and his political influence cannot be undermined."
A member of the Delta state House of Assembly, Hon. Reginald Dombraye said "Ibori remains a leader of the people of the Niger Delta region because he fought for the emancipation of the people here". The party was also marked with prayer section and thanksgiving as well as a toast to the celebrant.