Two killed In Another Jos Village Raid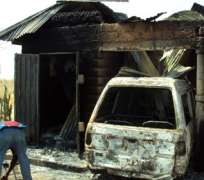 JOS, August 07, (THEWILL) - Two people were again shot and killed in another raid on Maidantoro village in Barkin Ladi Local Government near Jos.
The latest attack is coming barely a month after another village in Jos North Local Government was attacked which left seven persons dead.
Those hacked down in the recent attack by marauders who entered the village at about 3 am Saturday, include a man identified as Chuwang and his teenage daughter Victoria Dung.
The attackers who have not been identified as at press time also made away with 60 heads of cattle which they led into the dark of the night without a trace.
The special military taskforce keeping security in Jos however told THEWILL today that only Chuwang was killed while the daughter is receiving treatment at an undisclosed hospital.
The marauders were said to be armed with sophisticated guns.
The taskforce said it gave the marauders a hot chase in the bush and was able to recover 22 out of the 60 cows which they had led back to the village. No arrest has however been made.
Lt Col. Kingsley Umoh who confirmed the incident attributed the attack to cattle rustlers whom he said invaded the village and first attacked the residence of Chuwang, shot and killed him and carted away 60 of his cows.
"At about 0030hrs, gunshots were heard at the residence of one Mr. Chuwang of Maidantoro village in Barkin Ladi Local Government Council. STF troops were alerted and they swung into action immediately, it was discovered that Mr. Chuwang was shot dead at point blank range and about 60 of his cows rustled," he stated.
He said Victoria Dung who was shot in the abdomen did not die but is receiving treatment at the Nigerian Air Force (NAF) hospital in Jos.
Umoh confirmed the military troops guarding the area had gone into the bushes and combed the entire surrounding area for about five hours covering a distance of about 20 kilometers before being able to recover the 22 cows.