The World Needs $35 Trillion ForTransition Technology By 2030, Says IRENA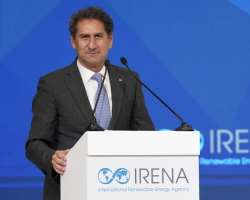 The International Renewable Energy Agency (IRENA) has estimated that the world will need around $35 trillion for transition technology by 2030.
Around 41 per cent of planned energy investments by 2050 remain targeted at fossil fuels, IRENA said, adding that "new investment decisions should be carefully assessed to simultaneously drive the transition and reduce the risk of stranded assets".
The risk of stranded assets might not be fully reflected in the value of companies that extract, distribute or rely heavily on fossil fuels. If this risk were priced in, a sudden drop in value could result, presenting a risk to investors and shareholders.
IRENA mentioned that around $1 trillion/yr of planned fossil fuel investment needs to be redirected towards transition technologies and infrastructure by 2030 to keep the goal of the Paris climate agreement within reach.
The Agency said on Tuesday that global investments in energy transition technologies must more than quadruple yearly to stay in line with commitments made under the Paris climate accord.
The organisation has looked at two energy scenarios — one based on governments' energy plans with a focus on G20 countries, and a 1.5°C global warming scenario aligned with the Paris climate goal.
Renewable energy deployment must grow from around 3,000 gigawatts yearly today to over 10,000 GW in 2030, IRENA said, adding that more equality is needed in renewable expansion between industrial and developing countries.
New renewable energy projects in China, the European Union and the United States accounted for two thirds of installed capacity last year, while Africa accounted for only one per cent of renewable capacity installed.
A fundamental shift in the support to developing nations must put more focus on energy access and climate adaptation," IRENA' Director General Francesco La Camera said, calling on financial institutions to direct more funds towards energy transition projects with better conditions.