Diamond Aircraft Seeks Investment Opportunities In Nigeria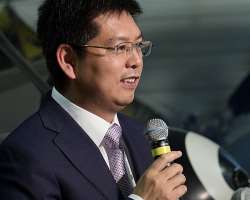 Mr. Bin Chen (Chairman of Diamond Aircraft Industries GmbH)
Diamond Aircraft, a leading aircraft manufacturer, has disclosed its plans to expand and invest into Africa with a focus on Nigeria.
The company, which has over 6,000 aircraft flying worldwide, has not had a clear strategy for Africa until now.
The Chairman, Diamond aircraft, Bin Chen, disclosed this over the weekend when he led his team on a visit to the Minister of Aviation, Hadi Sirika.
He said, "We are excited to explore the potential of the African market and to meet with local partners who can help us establish a strong presence in Nigeria," said a spokesperson for Diamond Aircraft. "We believe that Nigeria has great potential for growth and we are eager to be a part of that growth."
Chen further noted that Diamond Aircraft is currently looking for a local partner who could help them obtain a license to produce their aircraft in Nigeria. The company is seeking a partner who shares their values and commitment to quality and safety.
"We are looking for a partner who can help us bring our aircraft to the Nigerian market and ensure that they meet the highest standards of excellence. We believe that there is a great opportunity here and we are eager to explore it."
Responding, the Minister of Aviation said that in an effort to boost the aviation industry in Nigeria, a new maintenance repair and overhaul facility had just been established through partnerships, adding that the MRO is one of many in the country, and is set to provide maintenance services for a wide range of aircraft.
Listing some of the advantages the firm would benefit from when they invest in Nigeria, the Minister of Finance, Zainab Ahmed said in a bid to encourage new businesses to set up in Nigeria, the government had announced significant tax policies and incentives, adding that there is a double taxation agreement in place that protects businesses from being taxed twice on the same income.
Additionally, there is now a pioneers status available for three years, which is renewable, and offers a range of benefits, including import duty waivers for equipment and aircraft spares, she said.
Also Ahmed noted that the aircraft industry in Nigeria enjoys a VAT exemption, adding that there is also no customs duty levied on imported goods, stressing that these measures were designed to support businesses in the country and make it an attractive destination for foreign investors.
"On the fiscal side, we encourage new businesses that are coming to set up. We have significant tax policies you can benefit from, also we do have a double taxation agreement that protects you from being further taxed. In Nigeria, the aircraft industry also enjoys a VAT exemption. No custom duty when you import," she added.
Speaking also, the Attorney General of the Federation, Abubakar Malami, said Nigeria had reinforced its commitment to protecting investments of both local and foreign investors, explaining that the nation's constitution now includes provisions that guarantee the safety and security of investments made in the country.
Meanwhile, the Minister of Industry, Trade and Investment, Otunba Adeniyi Adebayo said that businesses looking to expand to Africa need not fear a lack of demand, as the African Continental Free Trade Area presents a huge opportunity.
The minister also stated that Nigeria, with a population of 200-250 million, is the largest individual market on the continent, and that access to this market would also grant access to the wider African market, adding that any product manufactured in Nigeria would be eligible for duty-free sales in other African countries, making it advantageous for businesses to set up operations in Nigeria.