Cross River State PDP Governorship Candidate, Senator Prof. Sandy jang Onor Rejects Election Result, Heads To Court
Pleads With Supporters To Be Calm And Law Abiding In The Face Of Injustice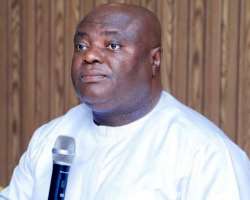 Senator Prof. Sandy jang Onor
The Peoples Democratic Party (PDP) governorship candidate in the recently concluded Governorship election in Cross River State, Senator Prof. Sandy jang Onor has stated his preparedness to challenge the purported outcome of the election in the Court.
In a press statement signed by him and made available to The Nigerian Voice, he was particularly critical on the credibility of the the exercise. " The fundamental norm of every contest is that, there must be a winner and a loser, but the contest must also be free, fair and credible".
Senator Prof. Sandy jang Onor who sympathized with the families that lost their loved ones during the exercise did not spare the election umpire, INEC, whom he claimed orchestrated, supported and delivered the shambolic election. "We are all aware that the said election was marred by a plethora of irregularities. The Independent National Electoral Commission was neither independent nor impartial. INC officials aided by security personnel manipulated the system. altered results at various collation levels and frustrated the will of the majority of Cross Riverians. Indeed, the election of Saturday 1 8" March, 2023 was characterized by outright vote buying, intimidation of voters and violence, which regrettably led to loss of lives. We express our heartfelt sympathies to the families of these beroes of democracy. We assure you that the perpetrators of this crime shall be brought to justice, if not by man, hy God".
In order to meet the yearnings and aspirations of majority of Cross Riverians, all the stakeholders and persons desirable for Justice have given him a nod to pursue and recover the "stolen" mandate, he further declared.
"We have consulted with our legal and technical teams as well as stakeholders to review the entire electoral process and have come to the inescapable conclusion that we must seck legal redress. This is tailored to meet the yearnings and aspirations of a vast majority of Cross Riverians. We are confident that we will get justice. We appeal to our teeming supporters across the length and breadth of our dear state to remain calm and put their trust in God, who ultimately gives power."