How I Was Pressured To Step Down For Yobe Speaker with N100m — 33-Year-Old Lawmaker-Elect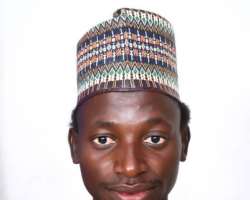 Lawan Majakura (Yobe State Law Maker-Elect)
The 33-year-old man, Lawan Majakura who defeated the Speaker of the Yobe State House of Assembly, Ahmed Mirwa Lawan in the just concluded election, has narrated how he was asked to step down from the race with an offer of N100 million.
The lawmaker-elect under the platform of the Peoples Democratic Party (PDP) said he was able to win the election following the massive support he received from the people of his constituency despite his poor background.
He said : "During our campaign, there were intimidation and harassment from some people out of political differences, but thank God that despite all the challenges, we were able to win the election.
"It was not an easy task to challenge a Speaker of the state House of Assembly.
"To be honest with you, he (Speaker) did not contact me to step down for him by himself, but a government official and some people I thought were his representatives came to me two times, telling me to step down. They promised to give me N18million, but I refused. Later on, they came back and offered me N100m, but still I refused.
"I told them that my village people bought the nomination forms for me because they believed I would do better, so I did not see any reason to step down for anybody. I told them to meet my people if they actually wanted me to step down for whoever sent them to me. I even told my people what we discussed but we all agreed that I would not step down, so we moved on with our campaign."
Majakura, who is a volunteer teacher, said he earlier contested for a councillorship position in 2021 under the All Progressives Congress but lost.
"I contested for a councillorship seat in 2021 when I was in the All Progressives Congress (APC) before I joined the PDP, but I didn't get the ticket. Our people, specifically the youth, asked me to run because they thought I could do better. But God didn't give it to us. So we prayed for a better position.
"I had diploma in Public Administration and Management from the Atiku Abubakar Collage of Legal and Islamic studies, Nguru in 2013. After that, I moved to the Federal Polytechnic, Damaturu for a National Diploma (ND) and Higher National Diploma (HND) on Business Administration and Management in 2020.
"But age limit disqualified me from the National Youth Service scheme; that's why I received exemption certificate. I engaged in fish selling and other things that would give me something to sustain my demand. I have a wife and four children."