APC Speaks On Suspension Of National Deputy Spokesperson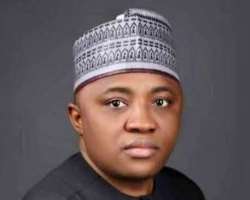 The All Progressives Congress (APC) has dismissed reports that it suspended a member of its National Working Committee (NWC) and Deputy National Publicity Secretary of the party, Murtala Yakubu Ajaka.
Recall that Ajaka was also purportedly suspended by the entire executive members of APC, Ajaka Ward 1, Igalamela/Odolu Local Government Area of Kogi State, in a letter dated March 20, over alleged anti-party activities, insubordination, and gross misconduct
In a swift counter reaction on Friday, the Ward chairman of the party, Omale Danladi alongside the Ward Secretary, Suleiman Abubakar, denied authoring any letter suspending Ajaka.
Danladi added that the purported suspension letter is fake, stressing that one of the signatories in the document, Danjuma Sani Ejika, died in 2022.
Part of the letter reads; "We, the leadership of our great Party, the All Progressives Congress APC, Ward 1, Ajaka in Igalamela/Odolu Local Government Area of Kogi State wish to and hereby deny the purported letter of your suspension alongside all the allegations contained therein in entirety, as they are completely frivolous, false and a calculated attempt by political enemies to tarnish the image of the generality of Ward 1 Party Excos and to distract and frustrate your selfless political ambition.
"The falsehood and mischief of the mischief makers becomes more glaring from the inclusion of the name and signature of our deceased Exco member by the name Danjuma Sani Ejika (Welfare Secretary) who died on 13th April, 2022 on a purported document containing the names and signatures of Ajaka Ward 1 Exco members present at the purported meeting whereat the decision to suspend you was reached.
"What is more, the place, date and time when we, the Ajaka Ward 1 leadership of our great party reached the purported decision to suspend you is not stated on the letter.
"While we regret all the inconveniences and pandemonium occasioned by this mischievous act of the political enemies, may we use this medium to reiterate our unalloyed support for you before, during and after the elections and to further assure you that, with your unmatched records and by the grace of God, your victory in the forthcoming elections is assured."