PDP Petitions Federal High Court Chief Judge Over Justice Ekwo's Injurious Orders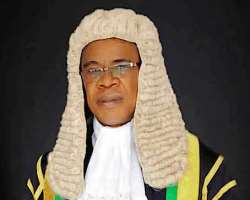 The Peoples Democratic Party has petitioned the Chief Judge of the Federal High Court, where it accused Justice Inyang Ekwo of bias and giving injurious orders against the party.
The PDP in the Petition dated 14th March 2023, addressed to the Chief Judge of the Federal High Court was signed by the Party's National Chairman, Sen. Iyorchia Ayu and National Secretary, Sen. Samuel Anyanwu.
The party demanded that all PDP related cases currently before the Justice Ekwo be reassigned on account of manifest bias.
The PDP also demanded that no other case that has to do with the Party should be assigned to Justice Ekwo, as the party it has lost confidence in his ability to deliver justice in its matters.
The Petition which was sighted at the Federal High Court accused Justice Ekwo of being in the habit of "issuing injurious ex parte Orders against the Party", noting that "in the build-up to the 2022 primary elections, Hon Justice I.E Ekwo issued series of harmful ex parte Orders against the PDP which eventually caused the Party huge electoral misfortune at the 2023 general elections."
The petition stated that such includes issuing an ex parte Order restraining the lawful ad hoc delegates who emerged from the Ward Congresses conducted by the National Leadership of the Party from participating in the Party's primary elections in Edo State.
This Singular Order it said, caused deep division and disaffection in the Party which eventually affected the fortune of the Party in Edo State
Others instances it said include: issuing unwarranted ex parte Order or judgment on issues of internal affairs of our Party in Cross River, Rivers among others States over which the Court has no jurisdiction.
It also said in one of the cases, Justice Ekwo announced himself as Counsel to the Applicant which exposed that he is not only bias but also stooped from the judicial office into handling the brief of the Plaintiff.
Relying on these instances, the PDP therefore demanded the immediate reassignment of all its cases now pending before Justice Ekwo in the interest of justice.