APC Suspends SGF Boss Mustapha Indefinitely Over Alleged Nonchalance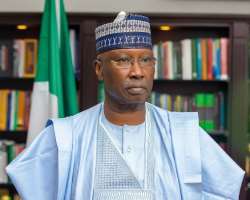 The All Progressives Congress in Adamawa State has reportedly suspended the Secretary to the Government of the Federation, Boss Mustapha, over the defeat of the party at his polling unit to the Peoples Democratic Party during the presidential and governorship polls.
The party announced the suspension, saying that the SGF did not contribute to the victory of its presidential and governorship candidates.
The chairman of Gwadabawa Ward made this known at a press conference in Yola on Wednesday.
He stated that the indefinite suspension followed complaints from his ward, adding that no individual could be above the party that gave them the platform.
Meanwhile, State Working Committee of the party under the leadership of the acting Chairman, Chief Samaila Tadawus, declared the suspension as "unconstitutional, null and void and of no effect."
The Adamawa State APC-SWC, also directed the local government executive committee of Yola North, to constitute a disciplinary committee to immediately investigate and recommend appropriate action.
Secretary of the party, Dr. Raymond Chidama, who addressed journalists at the party secretariat on behalf of the SWC, frowned at the penchant of party members who were being sponsored by "opposition elements within the party with malicious intent to attack elders of the party through actions that flagrantly disregard the party's constitution."
He said, "We hereby state clearly that such suspension is unconstitutional, null and void and is of no effect, because the state working committee has warned the ward executives in the past to desist from this acts of targeting elders of the party and disregarding constitutional provisions, appropriate sanctions will be applied after thorough investigations."