2023 Poll Update: Governor Sanwo-Olu Wins14 LGs In Lagos [See results]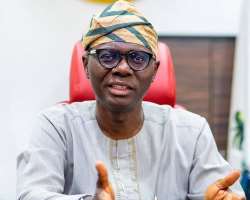 Governor Babajide Sanwo-Olu of Lagos State and candidate of All Progressives Congress, APC, is in early lead, as Independent National Electoral Commission, INEC commences collation of result from the 20 Local Government Areas.
The Resident Electoral Commissioner, Olusegun Agbaje, said 16 results are so far available at the collation centre in Yaba. The other four are being awaited.
The election is a three-horse race between incumbent Governor Babajide Sanwo-Olu of ruling APC, Gbadebo Rhodes-Vivour (GRV) of the Labour Party and Adediran Abdul-Azeez (Jandor) of the Peoples Democratic Party.
See results as announced so far:
APC – 37760
LP – 1317
PDP – 1783
Apapa LG
APC – 21007
LP – 4157
PDP – 2487
Epe LG
APC – 29,614
LP – 1515
PDP – 3272
Agege LG
APC – 35,845
LP – 8486
PDP – 3176
Ajeromi Ifelodun LG
APC – 39798
LP – 19821
PDP – 2677
Ikeja LG
APC – 32273
LP – 15174
PDP – 1616
Mushin LG
APC – 52249
LP – 11759
PDP – 4006
Surulere LG
APC – 42451
LP – 28069
PDP – 2200
Ibeju-Lekki LG
APC – 19369
LP – 3785
PDP – 3189
Ifako-Ijaiye LG
APC – 38682
LP – 13020
PDP – 2262
Badagry LG
APC – 41482
LP – 4863
PDP – 5472
Lagos Mainland LG
APC – 26021
LP – 9999
PDP – 2362
Alimosho LG
APC – 83631
LP – 37136
PDP – 7872
Ojo LG
APC – 30797
LP – 19027
PDP – 3889
Ikorodu LG
APC – 64697
LP – 13207
PDP – 3797