Yoruba film producer, wife arrested for conspiracy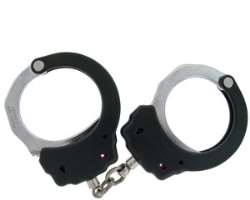 A Yoruba film producer, Tope Daramola and his wife, Bukola Oladipupo were today paraded alongside eight suspected criminals at the Criminal Investigation Bureau, Force Headquarters Annex, Lagos.
The ten suspects, including a retired inspector of police, Adebayo Baruwa, were arrested for unlawful possession of firearms, forgery impersonation and criminal conspiracy.
Bukola Oladipupo was alleged to have been in possession of 3 pairs of police officer's uniforms, a police beret cap, belt and two fake bullet proof jackets at the time of her arrest.
She told our correspondent that she was arrested after the police found her to be in possession of some police uniforms.
She said, ''I was in my father's house last Friday when some police officers came in to ask for my father. My father had introduced someone who wanted to buy a pump action gun to a retired police officer and that was why the police were looking for him. I told them that my dad was not around. When they said they wanted to search the house, I asked them to go ahead.