President Buhari Signs Bill Mandating Tinubu To Choose Ministerial Nominees In 60 Days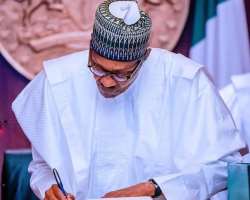 President Muhammadu Buhari has signed a bill which has mandated president-elect to submit names of persons for ministerial positions within sixty days after inauguration.
The Deputy Speaker, Ahmed Wase, made this known on Friday in a statement, adding that the president also signed some other constitution 15 alteration bills into law.
The first bill makes it mandatory for presidents and governors to submit the names of persons nominated as Ministers or Commissioners within sixty days of taking the oath of office for confirmation by the Senate or State House of Assembly.
Other bills signed by President Buhari include deletion of railway, electricity generation and prison services from the exclusive legislative list.
This means states are allowed to generate and distribute electricity, also operate railways without seeking permission from the federal government.
Another bill also granted financial independence to states' Houses of Assembly and judiciary.