What Oyo Muslims Should Say, When Next They Hear Seyi Makinde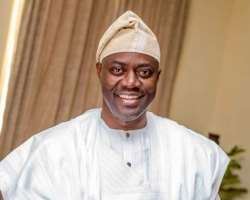 Amazing God. Unrivaled greatness is His, alone. Many a man, in history has tried to equate Him, but would end up getting sheathed in garment of disgrace. Look at the Egyptian Pharaoh, whose giant exterior and power fooled him to thinking he is God, his lifeless body remains a lesson to power-drunken men till end time. Look at Babel's Namrud, who even built a very high tower where he challenged God to a duel; only a tiny creature of God (insect) visited him and hung him by the nostrils on a journey of no return. Even the Uruk's Nebuchadnezzar II who extolled himself to the position of God, until he was driven insane, taken away, and humbled before men. The end of these men is what this writer does not wish for himself or the one reading this.
Beyond profanity, God shared a vital attribute of His with some of His creatures: His MAGICAL wand. His unmatched miracles that leave jaws-dropped and mouths-agaped. His mighty doings that pump hands in the air in hail of Dansaki re Ọlọhun (praise be yours, oh God). Islamic teachings taught me that these magical attributes are also bestowed on some of his special creatures, and not on random individuals. The Rosūl, messengers of God, were bestowed with Mu'jīzah (miraculous doings ascribed to prophets alone). The non-prophets, but who are very dear to God, had their own share of God's miraculous attributes: the Karamah, which Yoruba would nativise as "Karamon". So, when it's said to a Yoruba child, "Karamoh rẹ pọ" , originally, Yoruba people had only meant that the child has done an extraordinary thing, or did a little/insignificant thing in a very extraordinary way.
If Oyo State Governor, Seyi Makinde, has his name on the list of people who are very dear to God, is what no man can utter. For with only God, is the autonomy to say, "this creature is mine, he's very dear to me, reserved for him is a special place in my heaven/paradise" But a thought crept in me recently, and it's best expressed in texts. While many men are naturally revered and divinely blessed by God to perform miracles, some build themselves up to the taste of miraculous doings. The many miracles of Seyi Makinde across sectors in Oyo State have made my pen puke in my past writings. But now, the need to lay bare, what darkness signifies in the 'Islamophobic allegations' against Seyi, propelled this piece.
While it has become pertinent for me to bring to light the fact that, I'm neither of the APC or PDP, and have not and will not take a dime from any politician. The necessity of this clarification, is only to negate the suspicion that could arise as me being a fooled Muslim who would sell his religion cheap for crumbs from politicians. Unapologetically, I've always maintained my stance as a Muslim without fear or favour, but like author C. JoyBell C would posit, "silence in the face of injustice, is injustice in action".
That any Muslim would campaign against a hardworking governor, Seyi Makinde, on the basis of personal grudges or him being a Christian, at least, could be welcomed at a glance. Laying false accusations against him as a governor who jeopardizes the rights of Muslims or inflicts Muslims with injustice, betrays my conscience. Especially, when the man in question is one who has been hosting Ramadan lectures, Maulud Nabiyy, and sending Muslims to Hajj, even prior his ascension to the governorship seat. Politicians and their antics, right? Well, you could be right. It could be a game from a man who needs votes from both Muslims and Christians. But he did these things? Didn't he?
In 2019, Seyi ascended the throne as the 28th executive governor of Oyo state, with a Muslim deputy, Rauf Olaniyan. And after almost three years of their togetherness, the latter was impeached for reasons unknown to the public. While some alleged the impeachment was religiously-driven, others said it was based on political disagreements. The one which seems most correct to me is the latter, as Rauf Olaniyan would later defect to the APC and even head the Tinubu/Shettima Independent Campaign Council. Thence, Bayo Lawal was appointed a new deputy, and again, a fraction of the Muslim community said Bayo is a fake Muslim. Unknown Muslim, some called him. But Chairman of Oyo Muslim community, Alhaji Kunle Sanni, would later attest to Bayo Lawal's authenticity as a Muslim, at the 2022 Hijrah Day Celebration, held at Liberty Stadium Ibadan. Another false accusation, defeated.
Seyi Makinde's alleged injustice against the Muslims in the selection of his appointees was a foiled gear which head was untruthfully drawn. And an honest and logical view would only portray things otherwise. Of Seyi's 22 cabinet members, Muslims and Christians share 11 seats equally. Even, the heads of statutory boards are mostly Muslims; like the Civil Service Commission headed by Alhaji Aderibigbe, OYSIEC headed by Barr Ishaq Olagunju among others. Only the Judiciary Service Commission by the CJ and Audit Commission were headed by Christians. Do I also add that of Seyi's personal assistants, 5 are Muslims, while 1 is a Christian? Of GSM's current 9 special advisers, 5 are Muslims and 4 are Christians. Commendably, out of 17 commissioners in the state, 10 are Muslims while 7 are Christians. While Seyi Makinde's made his Chief of Staff a Christian, his Head of Service, Mrs Amidat Agboola is a Muslim. These are verifiable facts, please. As I would not sell my religion cheap for applause from anyone or crumbs from any politician.
While I will also not fail to add the fact that, of the current 33 LG chairmen in the state, 23 are Muslims, with some of them even having the chairman, deputy and even secretaries as Muslims. Is this, another Islamophobia agenda from Seyi? But they also accused him of demolishing the Adogba Mosque, as though necessity did not warrant the prophet demolishing "Masjidu Dirōr" during his reign. But look, they wouldn't add that he pleaded, lobbied, and even performed Jumat Prayer with Adogba Muslims just to be on the same page with them about the proposed demolition for an infrastructural project. In spite of the mosque's demolition, he built a far better mosque with gigantic features and additional buildings that weren't part of the previous one. Seyi was wrong to have had his name written on the Islamic Center part of the mosque, and no sooner had his attention called to the error, than he ordered its removal. If you could only accuse Seyi of demolishing Adogba Mosque (a better version of which he even rebuilt) but wouldn't talk of the Omituntun Mosque he built, the Ojaba Central Mosque and the Oja Bodija mosques he's currently refurbishing, or even the Olore Mosque/Rehab Centre he marked for demolition but wouldn't later demolish after getting his facts right, then you also reek of the hypocrisy you accuse him of.
While allegations of Muslim teachers answering Christian questions before they could get employment remain best known to Allah, I'll need to take pen off that. But it remains a clear fact that the Subeb chairman, Dr Nureni Adeniran is a Muslim, likewise, the commissioner for Education, Prof Daud Kehinde, is a Muslim too; and it would be out of logic that they sit and watch that happen. But again, they shot lasers at Seyi that Kolendar missionaries headed to secondary school across the state, distributing bibles and preaching the gospel. May I state unequivocally that missionaries coming to the state is as old as cowries. For, during my secondary days at Government Senior Secondary School, Orita Aperin Ibadan, missionaries came, shared bibles, one of which I also received. I guess Seyi was the governor then, too. But again, they fail to mention that when Islamic scholars visited Nigeria for seminars, Conferences and workshops, Prof. Wole Abbas, a brother to one of my favorite columnists, Alhaji Femi Abass of The Nation Newspaper, among other university scholars across the state would bear witness of the friendly reception Islamic scholars received from Engr Seyi Makinde.
Funnily enough, Seyi Makinde is not even as worse as Muslims like Raji Fashola who demolished mosques in Alausa and provoked the pro-Hijab policy in Lagos secondary schools as the then governor of the state, or the Lautech Professor Lawal Ajibade who sent a Munāqobah(veiled woman) out of his class mainly on the basis of her divine gown. Again, is Seyi as bad as shameless Islamic scholars like Labeeb, who would condemn veiling openly as a strange practice in Islam? But you hate Seyi. You only hate him because he's not a Muslim, while acting blind to the many good works he has executed across sectors in Oyo State and neglecting the fact that we're in a secular nation and Muslims can't be the only ones ruling. Or how about the message of Allah, that He would have made us all one but chose not to. And this, the scholars said, is part of what makes the world an interesting place to be.
The same aggrieved Muslims who of a sudden now endorse Teslim Folarin (a fruitless senator, celebrated lout, with no strong connections with Islam/Muslims in the past) for being a Muslim had suddenly dropped Waheed Adelabu Penkelemesi, which they endorsed in 2019, because he's no longer on the two big tickets. All of a sudden, accusations and allegations against Tessy are now overlooked and forgiven - even that his late wife, Angela, was a Christain, with his kids queuing behind the religion of their mother. The same aggrieved Muslims who condemned Makinde to hell are the same ones asking Muslims in Lagos State to vote for Sanwo Olu, a Christian, where there are Muslim candidates like AbulAzeez Jandor of the PDP. Do I even ask these angered Muslims why they wouldn't endorse a Muslim governorship aspirant like Tawfiq Akinwale, the Labour Party aspirant? A devout Muslim and long time MSSN brother with clear decimal of worship etched on his forehead and beards shrouding his face Oh. Are rich Muslims or Muslims with possibilities of winning our only brothers deserving of our supports?
If on any pedestal, anyone would accuse Seyi of having an Islamophobia agenda, it shouldn't be the same governor who hosted Muslim bodies across the state, and during which the chairman of the Muslim community, Alhaji Kunle Sanni, requested on behalf of other Muslims that the governor remove Mrs. Oderinde as Permanent Secretary for Tescom as she's accused of being an Islamophobe. And immediately, the governor suspended her and had her replaced with Dr Bashir Olanrewaju. And as for the concerns about education secretaries in the state being in favour of Christians over Muslims, which is a flip of the coin to the side of the Christians this time, it behoves the angered ones to know that list of education secretaries are submitted via each local government, which the Subeb chairman ratifies, after which the Governor only approves what is submitted to him.
The allegations that three Muslim lawyers were denied promotion to judges until their deaths is what I can't exonerate Seyi Makinde of. While I seek more clarification on that, I will need to state that: while we lambast pastors who mount the pulpit to incite hatred against Islam, it behoves us to caution Islamic scholars who use the Mimbar for religious hatred or political canvassings. Seyi Makinde has done more than enough for Oyo state be voted out on the basis of differences in religion.
Thus, to surmise, when next Oyo Muslims hear "Seyi Makinde", they should say a prayer that Allah redirect his path and be his support as he occupies the Agodi Secretariat for another four remarkable years. For, Oyo people are not ingrates and would re-elect him, come Saturday.
Hashim Yussuf Amao tweets via: @LegalBard

Disclaimer:

"The views expressed on this site are those of the contributors or columnists, and do not necessarily reflect TheNigerianVoice's position. TheNigerianVoice will not be responsible or liable for any inaccurate or incorrect statements in the contributions or columns here."