CHIEF TONY ANENIH: AN ICON AT 77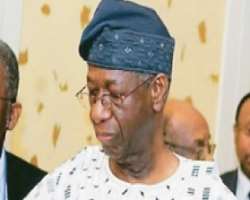 PHOTO: CHIEF TONY ANENIH.

As you read this article, Chief Tony Akhakon Anenih would have clocked 77 years on earth. That happened on August 4, 2010. He needs no introduction as a political Icon in the country. The man no doubt is patient from my little study of him even though I have not met him before one-on-one. And from no strenuous investigation, I have come to understand that "Akhakon", his middle name, in the parlance of Uromi his ancestral home means endurance or patience. I have read the man and his relationship with people just through the pages of Nigerian Dailies and come to understand that he is indeed patient.
When you ask me if there is something in a name, I can definitely tell you from the standpoint of Chief Tony Anenih that there is. Patience alone was the strategy deployed by him in earning many accolades particularly in his political career which has spanned three decades, pulling respect, successes, integrity and above all, highly detribalized.
He was born in Uzenema-Arue in Uromi on 4th August, 1933, and had his basic education at Government School now renamed Okpujie Primary School also in Uromi from 1944 - 1949.His enterprising spirit and dream of moving on in life beyond his immediate environment got him to traverse towns like Auchi, Benin and Ubiaja respectively searching for greener areas.
His search no doubt yielded enormous dividends as his first public service assignment with the police got underway in Benin City, in 1951.He quickly registered as a private candidate and obtained the GCE 'O' Level as well as 'A' Level. It was these results that culminated in his nomination for training in the United Kingdom and United states.
Both patience and determination again worked for him, when the white men he served with voted him for training both at the Hendon and Scotland Yard Training Schools in 1961 because he won their admiration.
As an operations man, Chief Anenih alias "Mr. Fix It" was again selected for Bramshill Police College, Basingstoke, Hampshire, England in 1966 and the International Police Academy, Washington DC in 1970. His return to Nigeria yielded greater dividends by deploying his experience in training younger officers at the police colleges until 1975 when he proceeded to the Administrative Staff College (ASCON), Lagos. He once served as a police orderly to the first Governor General of Nigeria, Dr. Nnamdi Azikiwe and possibly got his tutelage in politics there.
As a disciplinarian par-excellence and manager of both men and materials, the Uromi-born security wizard ended his career as a Police Commissioner and began a new one in both business and politics.
Starting as the State Chairman of the National Party of Nigeria (NPN) between 1981 and 1983, he strategized for the election of Dr. Samuel Ogbemudia as the Civilian Governor of the then Bendel State.
Again as National Chairman of the Social Democratic Party between 1992 and 1993, he won for his party the internationally acclaimed and transparent presidential victory which saw Chief M. K. O. Abiola victorious in the historic elections of the popular June 12, 1993 fame.
Whether you like it or not, Chief Tony Anenih is a political machine you will always want to deploy because victory was always at the end. Till tomorrow his residence both at home and in Abuja is a Mecca of sort because of the level of influx of politicians to get first hand information about strategies and how to deploy them.
He took care of the southern minority interest in 1994 as a member of the constitutional conference as their eyes and ears.
His duty a as deputy national coordinator, Obasanjo Campaign Organisation, Anenih was akin to brain box, the Chief Mobilizer that shaped the dramatic victories of the Peoples Democratic Party (PDP) in 1999 and also in 2003.
His appointment as Minister of Works and Housing in 1999 was smooth as the Senate, during his screening not only rose but also chorused; 'Our leader!' and asked him to take a bow.
His qualities of loyalty, communality of approach on issues of party affairs endeared him for the position of Chairman of the Board of Trustees of PDP. The party progressed and got galvanized during his tenure as BOT Chairman.
Just recently when the ruling People's Democratic Party got enmeshed in the zoning controversy, Anenih was again at hand to proffer the needed solution giving vivid explanation why even from the onset zoning was not practiced but in name. His letter to the National Working Committee (NWC) through the National Chairman provided answers for the ongoing debate. The development no doubt calmed frayed nerves as a devoted party team player.
About five years ago the quintessential politician was called to his hometown in Uromi where all the traditional rulers of Esanland jointly conferred on him the title, Iyasele of Esanland.
He has garnered honorary doctorate degrees from the Ambrose Ali University Ekpoma, Rivers State University of Science and Technology Port Harcourt, Igbinedion University Okada, University of Benin and the Federal University of Agriculture, Abeokuta.
Musa Hassan Jibril writes from Abuja and can be reached on [email protected]
Disclaimer:

"The views/contents expressed in this article are the sole responsibility of the author(s) and do not necessarily reflect those of The Nigerian Voice. The Nigerian Voice will not be responsible or liable for any inaccurate or incorrect statements contained in this article."
Articles by thewillnigeria.com