FG Shuts Lagos Airport Runway For 8 Weeks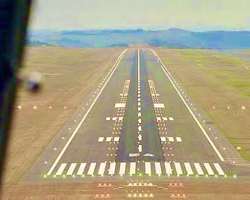 The Federal Airports Authority of Nigeria has said that Runway 18R and 36L of the Murtala Muhammed International Airport, Lagos, will be shut for eight weeks down for maintenance.
The Runway 18R and 36L is specifically dedicated for international flights. Following the development, the Federal Government has diverted all international flights to Runway 18L and 36R located at the domestic wing of the Lagos airport. The Runway 18L is dedicated for local flights.
FAAN in a statement on Monday confirmed that Taxiway B-18L would be used instead for all flight operations until maintenance was completed.
The President of the Association of Foreign Airlines and Representatives in Nigeria, Kingsley Nwokoma, said, "If you go into the history of runway closures, there's never been a time we have two runways running concurrently for a long time. FAAN recently worked on one and we had assumed we had a lasting solution but now we're back to square one. Of course, if you don't have two runways working concurrently, traffic will be affected as usual; there will be a lot of boarding as both international and local flights will be on the same runway.
"My advice is that whatever they're doing, eight weeks should be eight weeks. Foreign airlines hope that this will be a final solution and then we can have two runways running concurrently for a long time like we see in other climes which have more two runways."
Aviation expert, Capt. James Daniel, said, "If FAAN is closing down the international runway which is slightly longer, I believe the other runway is of sufficient length to accommodate bigger aircraft. I don't see that having a major impact. Obviously, there will be delays in flights because of the extra number of aircraft flying off the other runway so it would obviously increase delays. The primary issue is the delay it will create of the traffic congestion."