Rep Protests Police Killing Of Constituent In Bauchi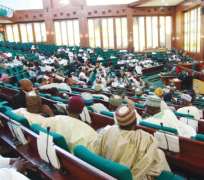 ABUJA, August 06, (THEWILL) - Chairman of the House of Representatives Committee on House Services, Honourable Yakubu Dogara has condemned the Nigeria Police for attacking people of Tafawa-Balewa town in Bauchi State which left one dead and four others seriously injured.
Dogara who represents Bogoro/Dass/Tafawa Balewa Federal Constituency in a statement today condemned the actions of the police saying it is contrary to the primarily duty of the force which is to maintain law and order.
"I strongly condemn the attack on Tafawa-Balewa by the police yesterday which resulted in the shooting of five people with one of them certified dead by the early hours of today. The premeditated attack on innocent residents of the town by the police under the guise of carrying out arrest is crude, barbaric, reprehensible and grossly insensitive."
He further called on the Inspector General of Police Ogbonnaya Onovo and the Bauchi State government to institute a probe into what he called "mad event" and ensure that the policemen responsible for the shooting are made to face the full wrath of the law.
The lawmaker explained that, "We as political leaders will explore all allowances of the law in ensuring that the culprits are brought to book."
Dogara cautioned the police for what they did knowing fully well that the town had been a flash point with regards to ethno-religious conflicts which has stultified progress and development in the area.
"Various stakeholders including religious, political and community based organization leaders have resolved to stem this hydra headed monster and have worked tirelessly and scrupulously over the years to ensure that crisis in the area is confined to history.
"This janjaweed-like operation by the police appears to be systematic and criminally intended to throw us back into those dark days," the lawmaker said.
He called on the people to remain calm and resolute in their determination not to relapse into the ruinous past.